Usually once or twice during winter Bergen gets a snowfall that lasts for at least a few days, or if we are lucky a couple of weeks. Amazingly the nearest skitrack is only 6 minutes away from the city via Fløibanene at the top of Mt Fløyen. This is one of the coldest areas near the city where it is often possible to go skiing after a snowfall. Here at the plateau above Mt Fløyen there is even a groomed and lit ski track called Lysløypen.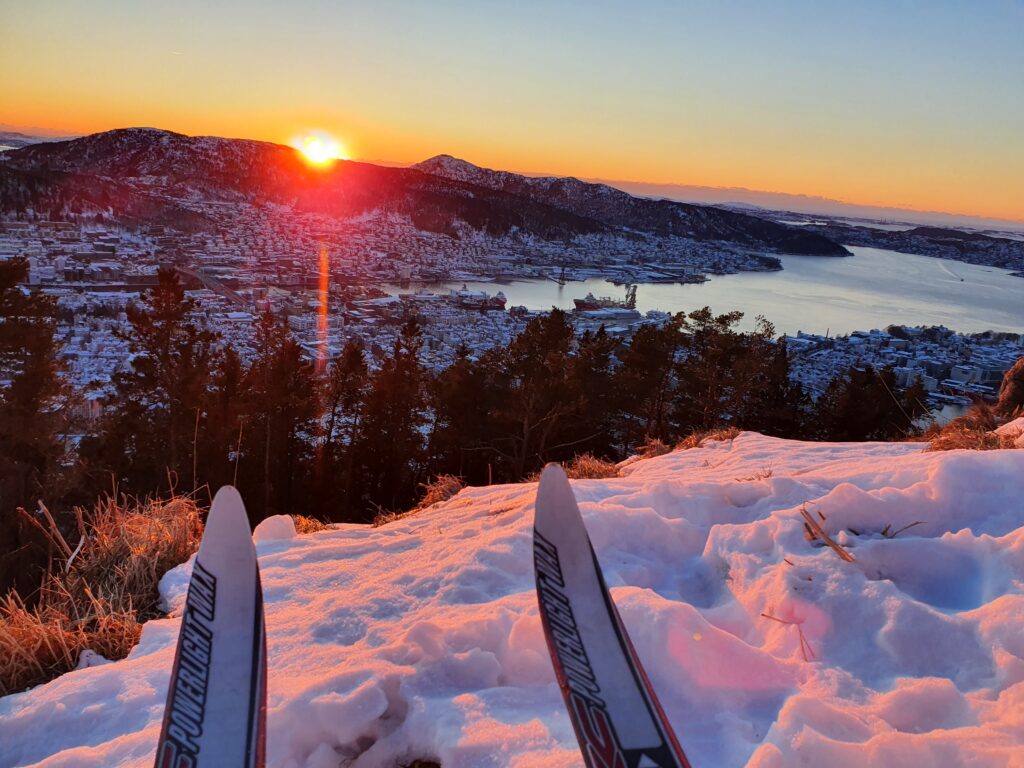 Quite often after a snowfall there is snow up here at Fløyen even when it is raining or warm temperatures down in the city. In between the woods slightly above Fløyen you will find a lit, groomed track. It is very pretty as it is not in a man made stadium but purley based on mother natures own route, and of course only natural snow. It feels like magic skiing around here in the woods on the "roof" of Bergen city.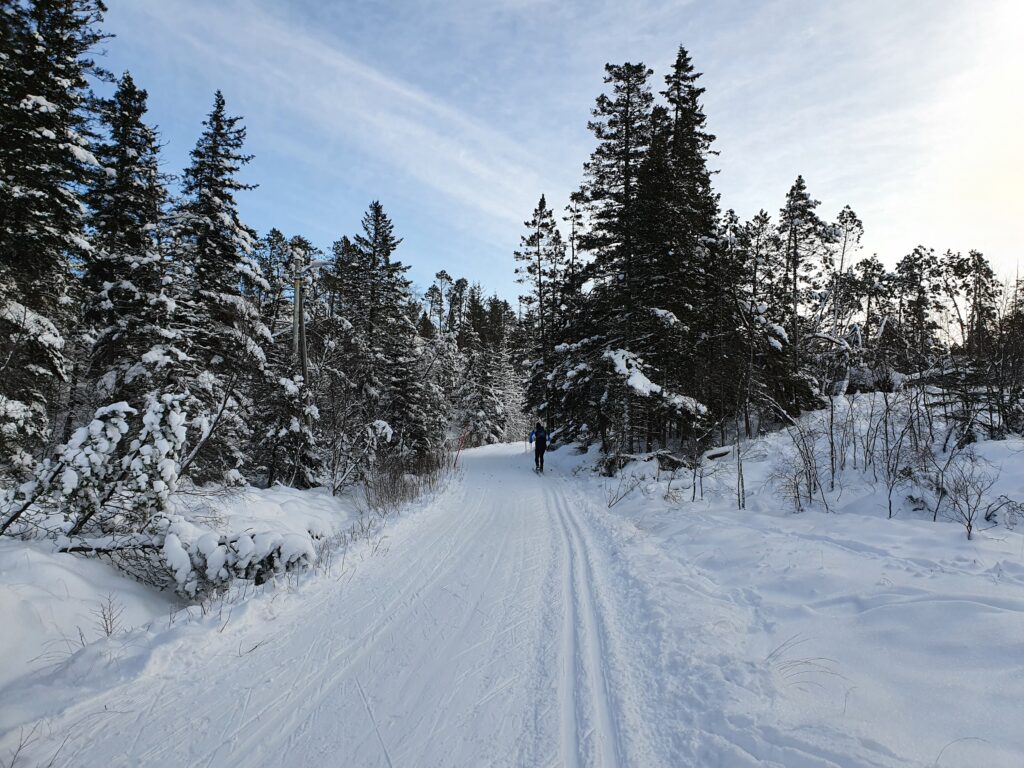 Heading to Lysløypen
If we are lucky there is enough snow to start skiing in Fjellveien, or at Skansemyren, and ski up to and from Fløyen. If not, it is possible to walk, or, as already mentioned take the Fløibanen funicular up to Fløyen. From there one can usually put the skis on and continue to Edvard Griegs vei and the start of the Lysløypen track which is a groomed skitrack for Nordic skis.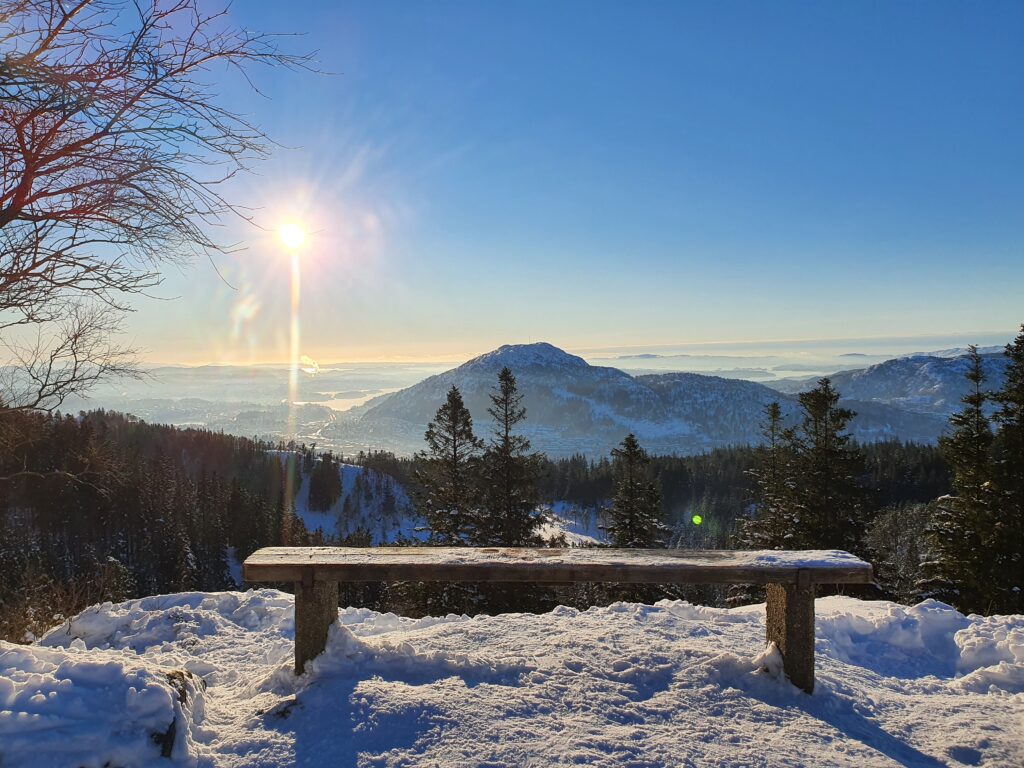 The groomed track is approx. 5 km in total and goes in two loops (higher and lower loop) so it is possible to make it longer or shorter. In terms of altitude it is positioned at 400-500 m.a.s.l, and the lights are on until 10pm at night. This makes skiing in Lysløypen one of Bergensers favourite skiing areas; proximity to the city, and possible to use after dark.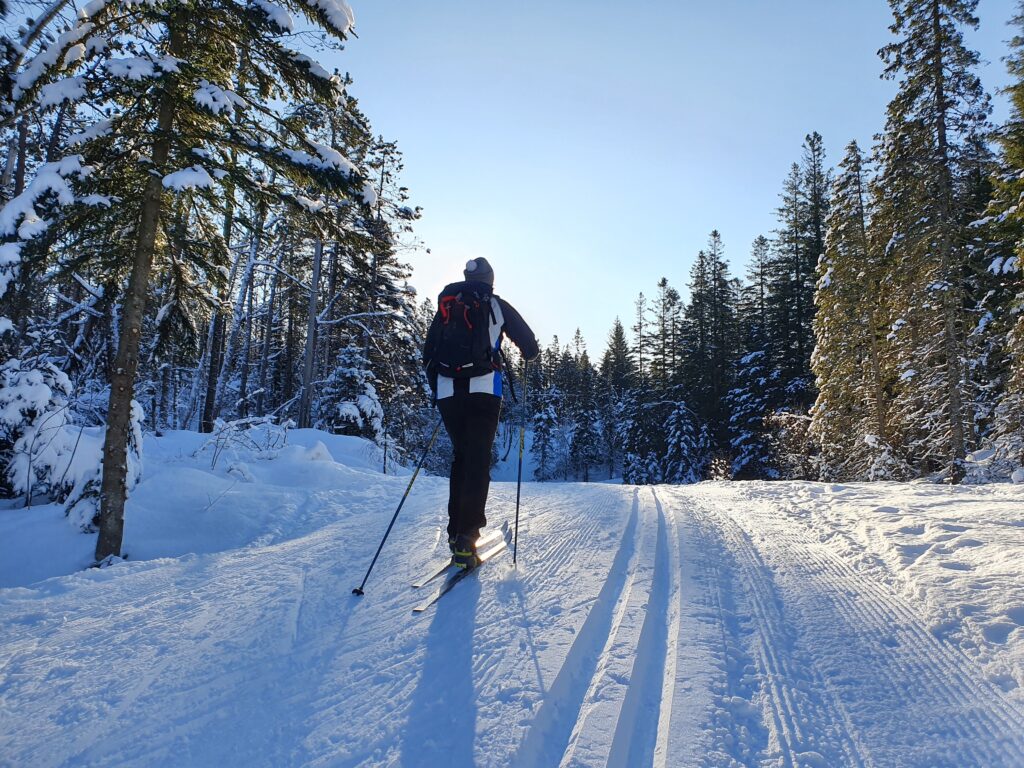 Normally there is at least one snowfall during the winter that is heavy enough to allow skiing at Mt Fløyen. Taking advantage of this to go skiing "on top of" Bergen is just pure happiness!
The ski track goes past Aasebu and Brushytten where it is possible to stop for a rest or make a different route (by leaving the Lysløypen or taking a new cut). Aasebu is a small hut open for the public to stop for a rest. There is no service, but if you bring your packed lunch and hot drink you can enjoy it here on cold days.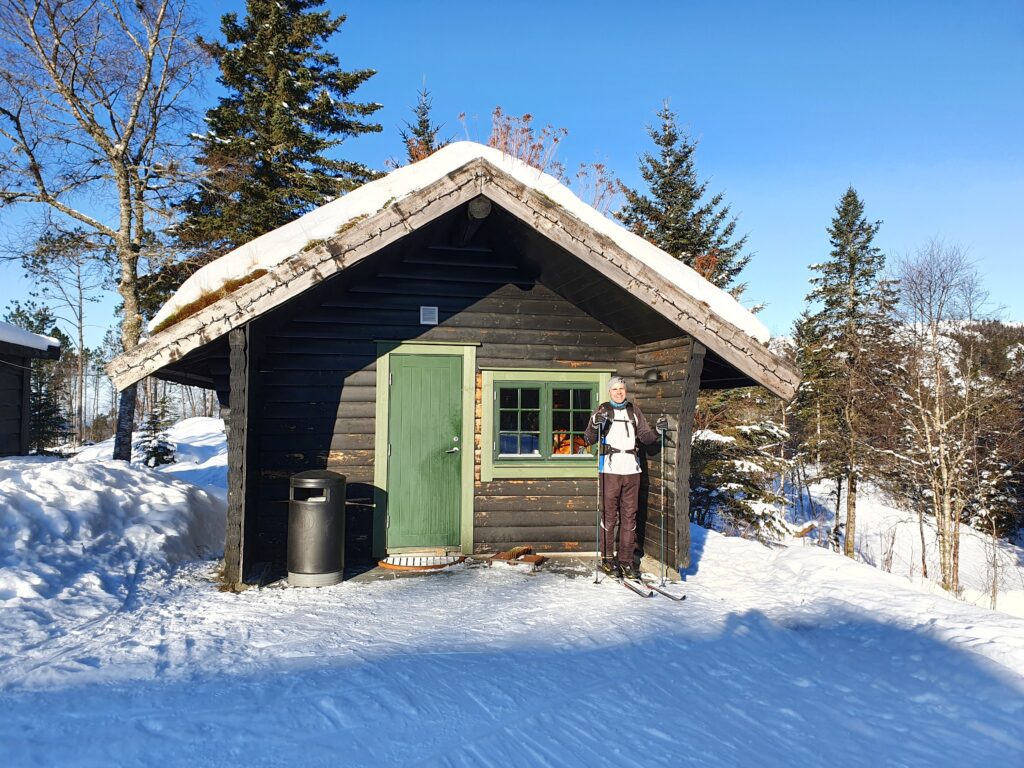 Skiing in the Lysløypen and arriving at the edge towards the city (in the lower loop) allows you to look down at the Bergen fjord, the port and the city is just below. Every time I come past here I am baffled by how lukcy we are to have this so near our doorstep! I just wish we had stable snow conditions and were able to ski here the enitre winter.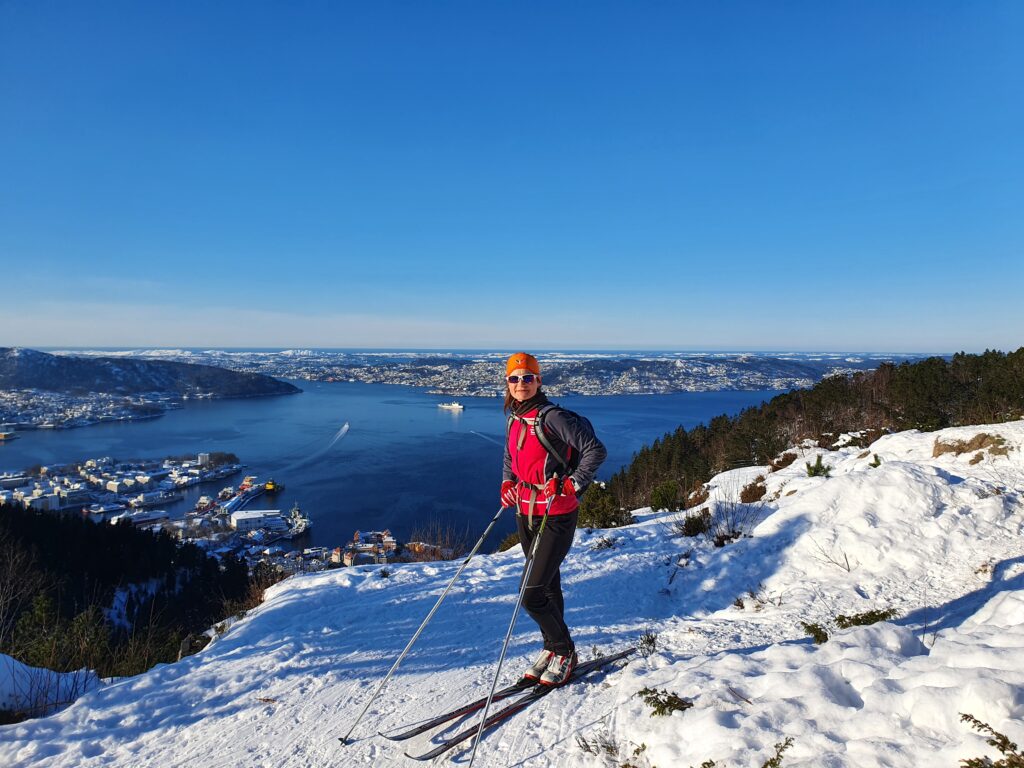 As one continues past Aasebu you will enter the turn that takes you towards the edge of the cliff overlooking Bergen port. On clear days it offers a spectacular view seen through the trees towards the fjord below by Bergen Port. Here it is worth making a stop for a photo (see images above).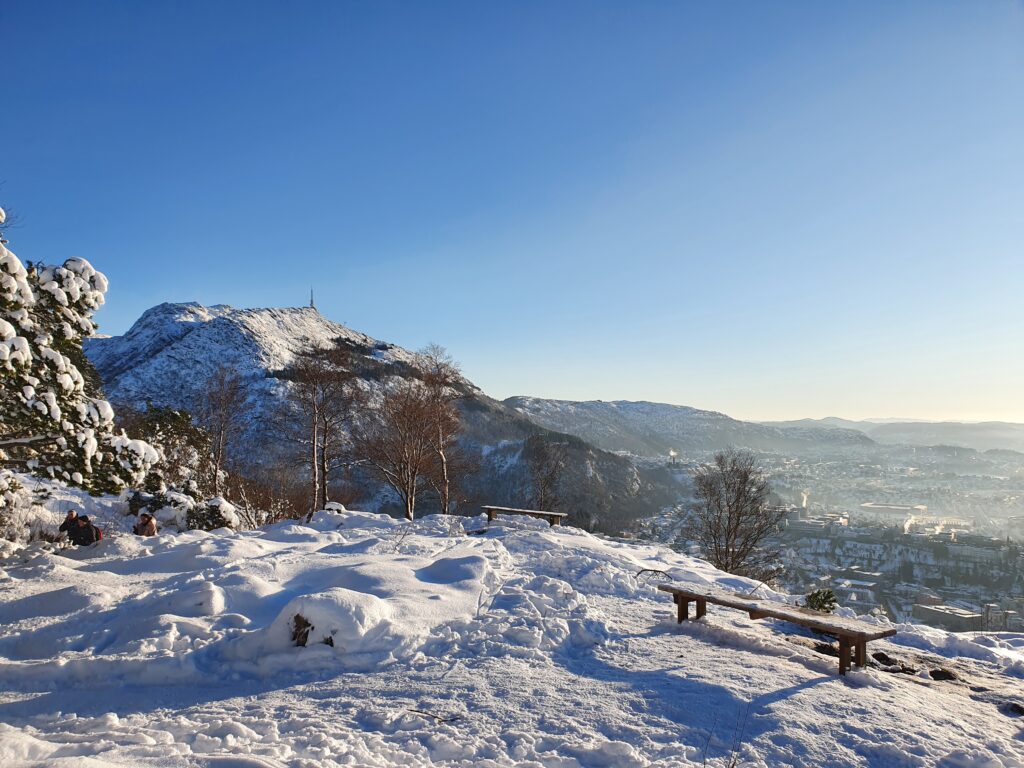 Bergen turns into the most beautiful place when covered in snow. I think the whole world would live here if this were how our winters would be normally. However, most of the time during winter in Bergen the weather is grey, mild and wet. Hence, it makes us even more excited when we get snowfall, despite it not lasting very long each time.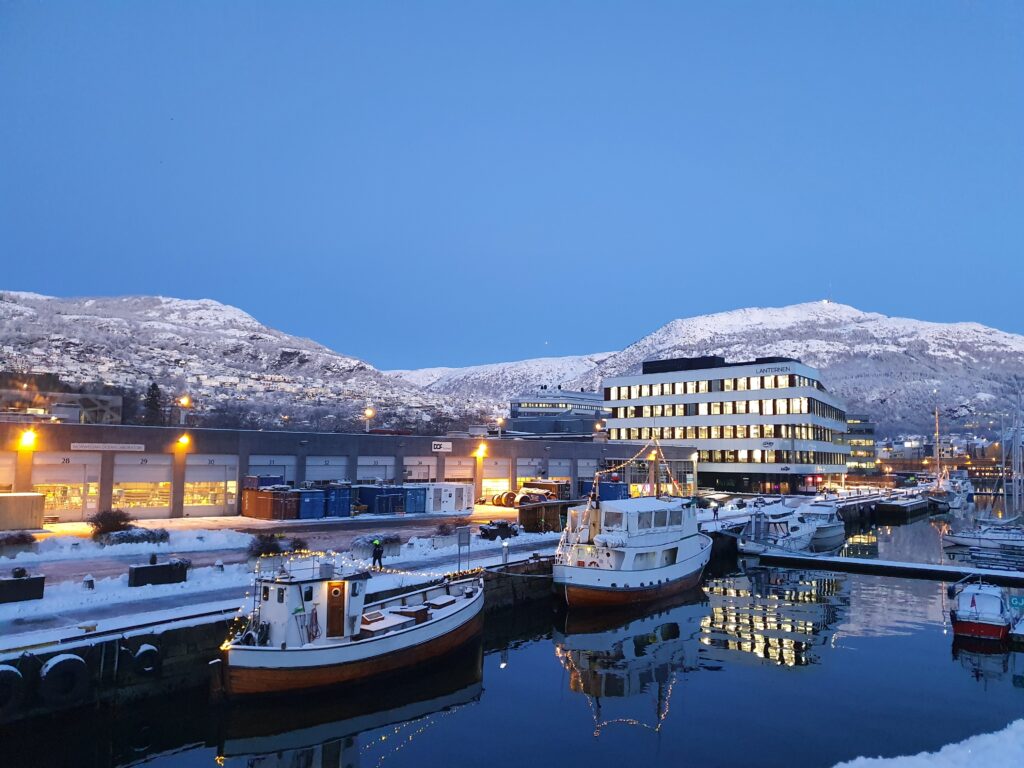 I think the definition of happiness for us living in Bergen (where it rains more than 200 days a year) must be having both the conditions and the physique to be skiing slalom turns down from Mt Fløyen and back home.
Skiing to Mt Rundemanen, higher up from Fløyen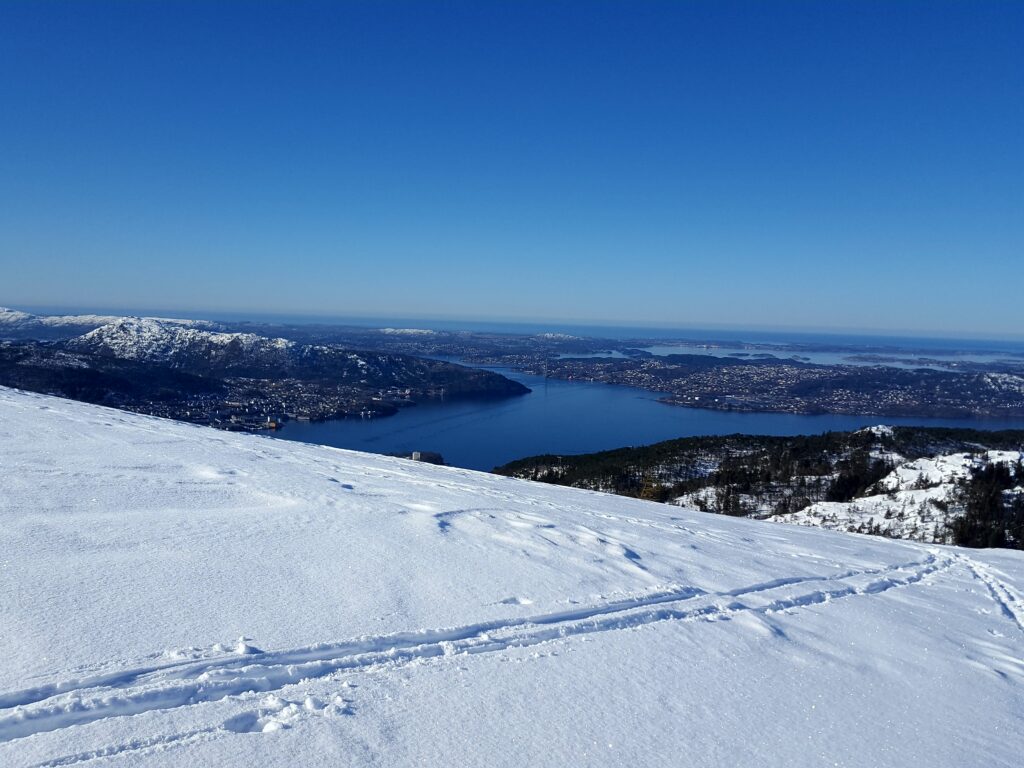 It is also possible to ski higher up from Lysløypen and continue to Rundemanen. You can either head towards Brushytten from Fløyen (the normal hiking route) when the snow cover allows this. Or can you leave the Lysløypen in the higher loop once you arrive at the level at Brushytten (seen to the right in a sharp turn and crossroads). To head for Rundemanen (the summit above Fløyen at 568 m.a.s.l) pass Brushytten on the left.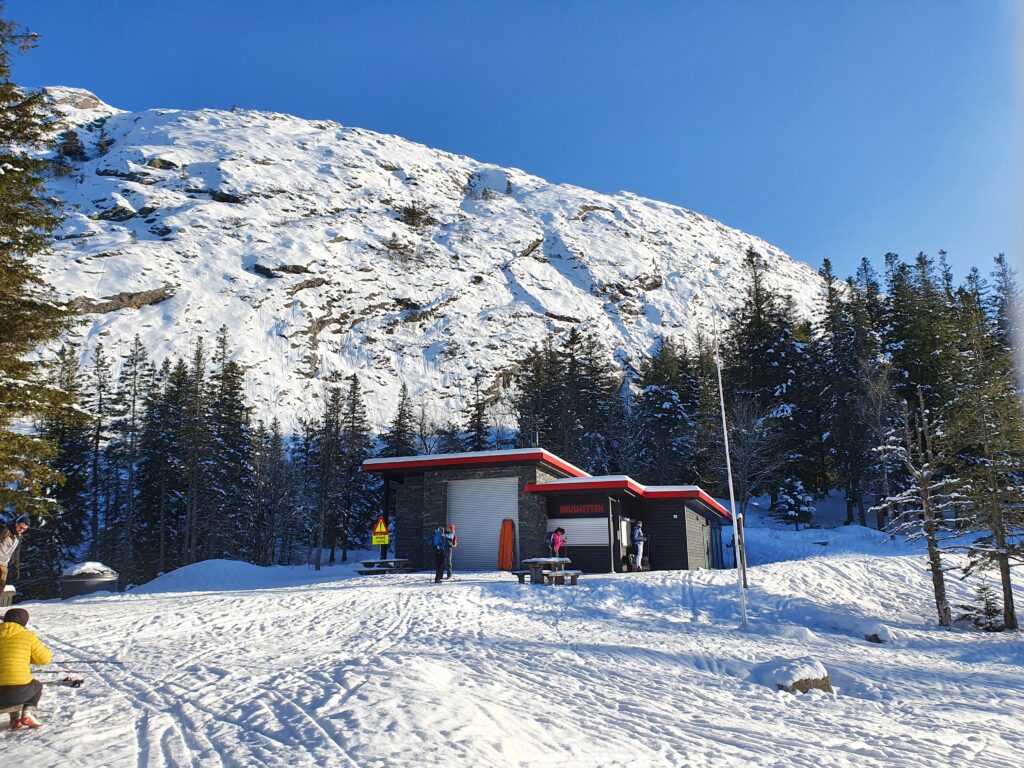 This route will take you up Rundemansveien allowing even more spectacular views on a clear day. But remember, this is not a lit nor groomed skitrack so bring you own headlamp if going here in the afternoon/evening.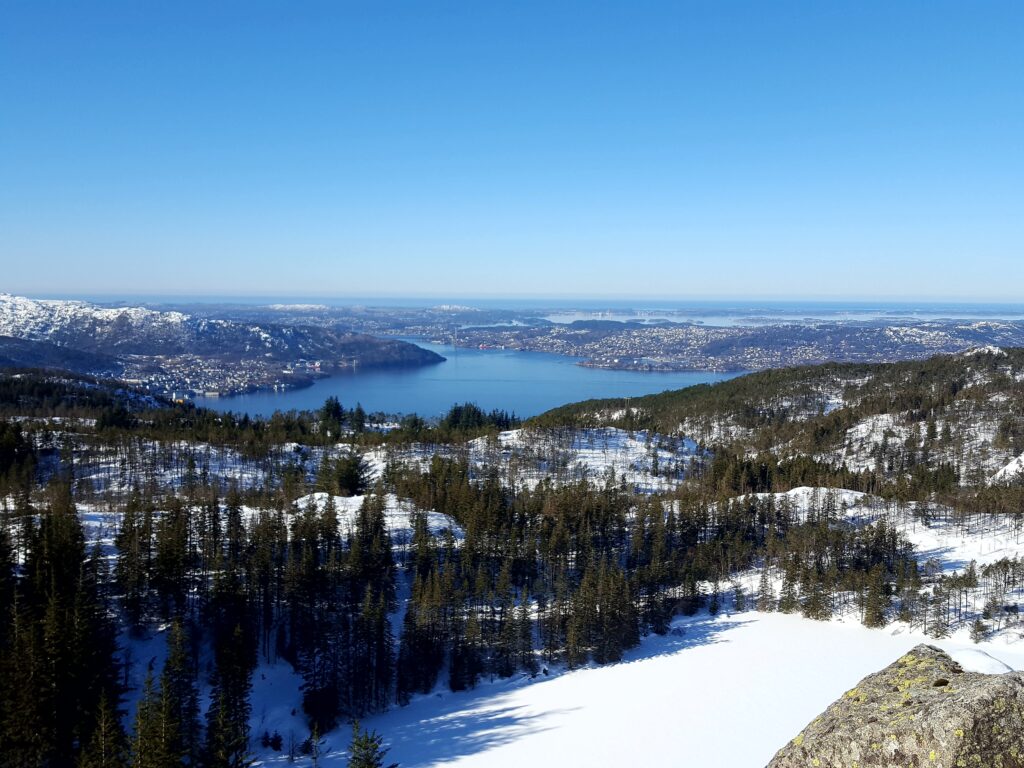 Also, remember that coming back down Rundemansveien on nordic skiis do require some skills of skiing downhill, so take care, especially as this route is not groomed.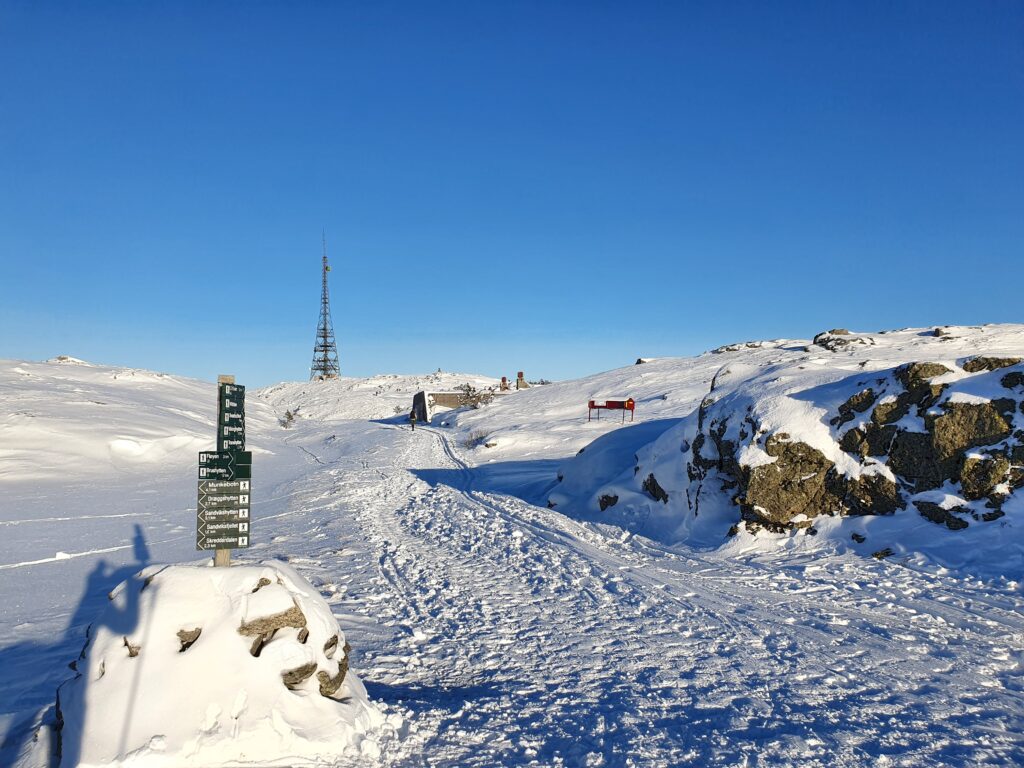 Once you are on top of Rundemanen there are several options to do some loops around at the top, depending on the snow depth covering the very uneven terrain. One can head for the huts along the edge overlooking Bergen, or head for the radio mast and come around towards the huts the other way.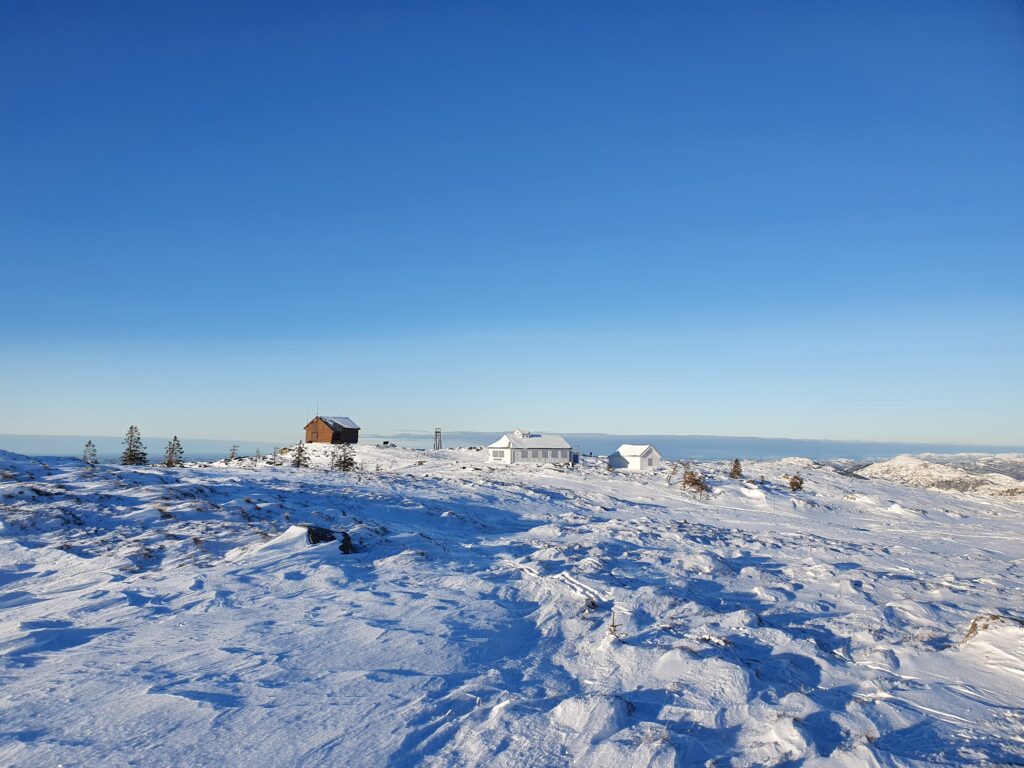 Again, coming up here with skis and skiing all the way down again on the routes we normally go running or hiking is just magic! Bergen in white is truly spectacular. Even though it is only a short while from Bergen city centre it looks and feels like the high mountains.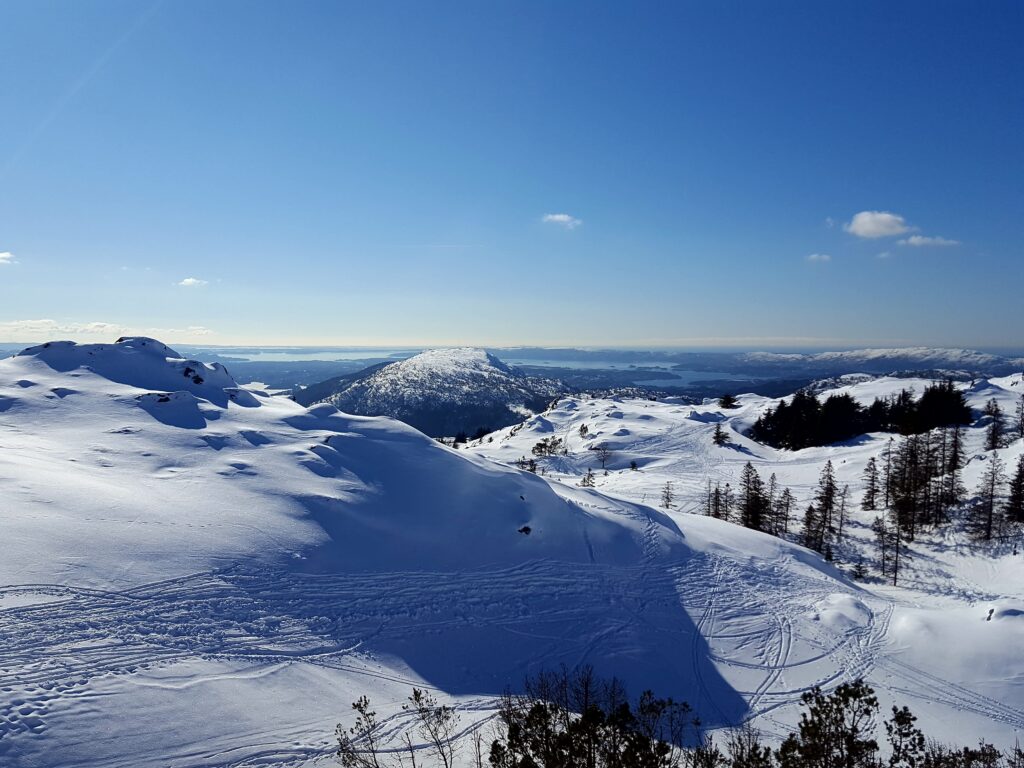 We hope you get to experience Bergen in snow, and if possible go skiing. It is a magical thing to do in Bergen, even if you live here permanently. A couple of years ago Bergen had enough snow on the city mountains to allow us to go skitourting witw Randonee skiis to Fløyen and further up to Blåmanen. We even skied powder on parts of our way down. Stay tuned and maybe we will get the time to write about it here.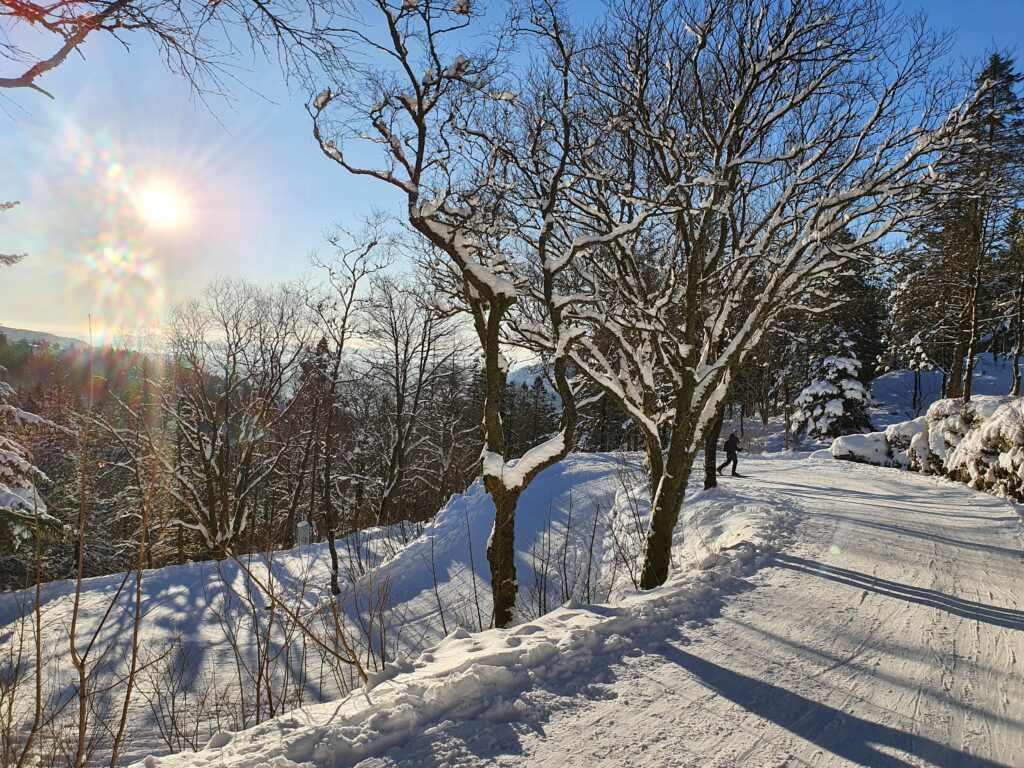 If you want to see a map over the skitrack Lysløypen at Mt Fløyen you can see more here: Map
You might also like The seven summits of Bergen: your hiking guide which is just as relevant in the winter. Just make sure you bring good hiking shoes and even spikes, as it might be icy in places.
Our post Bergen panorama view from Fjellveien describes how to get to Fjellveien, another place which is truly worth visiting in the wintertime. The view from here is just as stunning year round.
On our Instagram account you can see more pictures of this from January 2020 and stories in highlights from skiing in Bergen.