If you are looking for a hike with plenty of fjord view, but do not want to spend all day travelling or hiking, this is the perfect hike easily accessible from Bergen.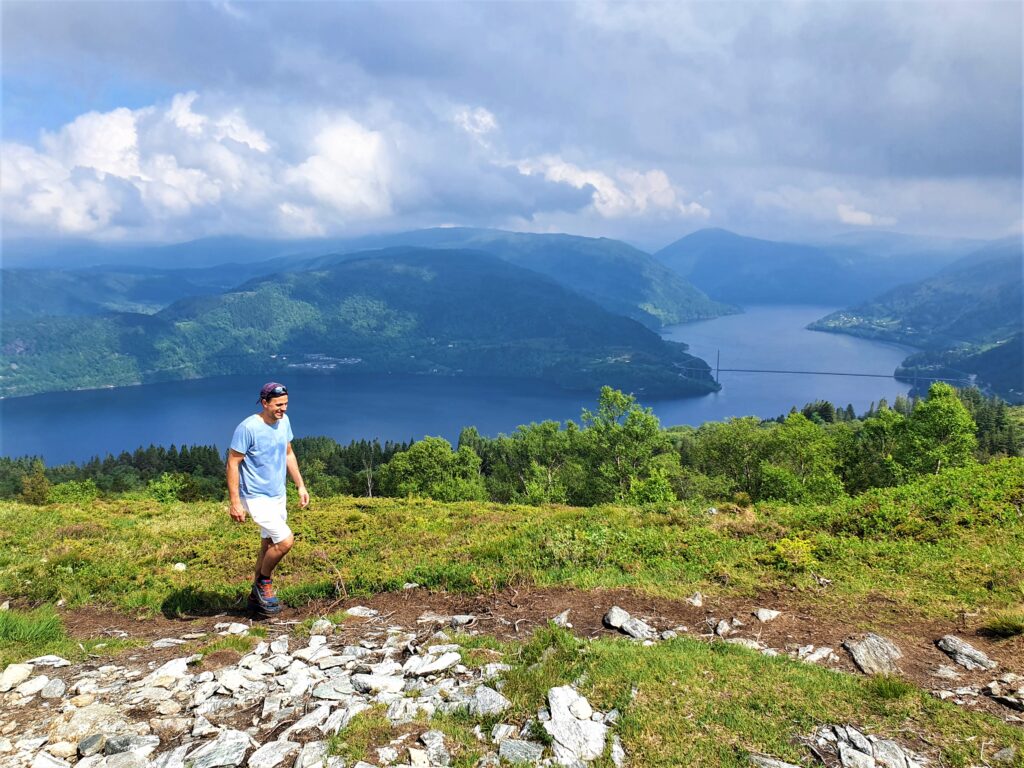 Arnanipa lies in Indre Arna, just outside Bergen, and offers stunning fjord view as it is located on kind of a peninsula between Arnavågen and Sørfjorden (Osterøy). The summit lies at about 500 m.a.s.l. but seems even higher due to the great views.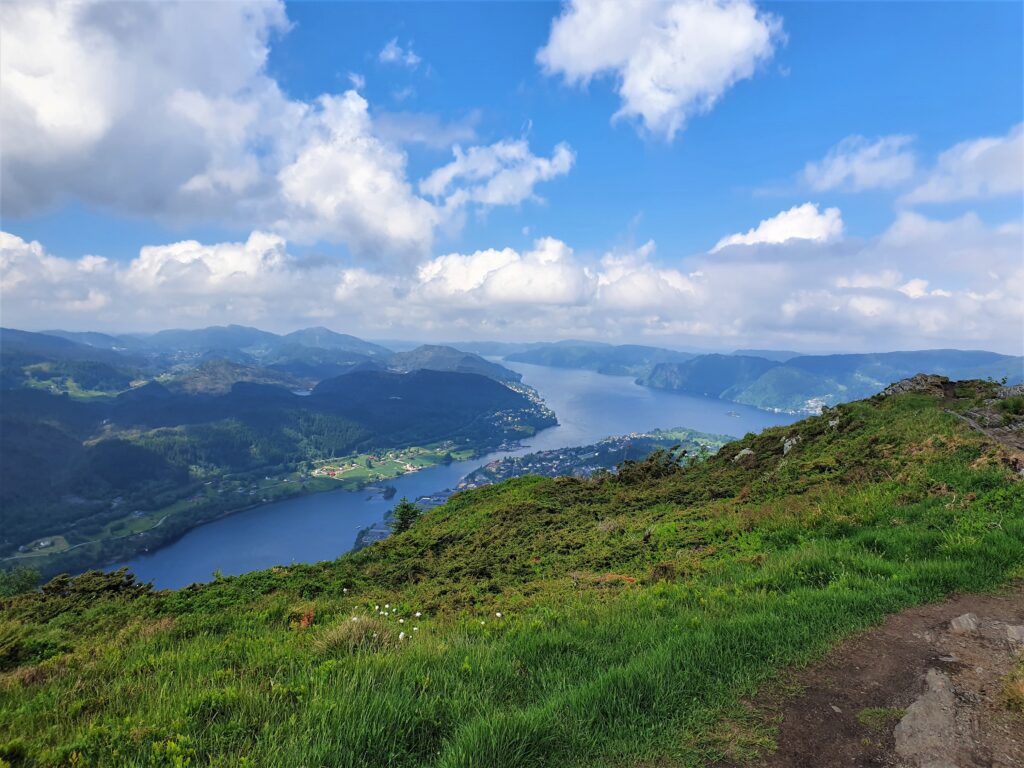 This hike is easy to access from Bergen whether you travel by train, bus, or car to Indre Arna. We choose the route where the footpath starts at a carpark in Stølsvegen. Here we parked our car free of charge and headed up the steep ascent called Hjortestien.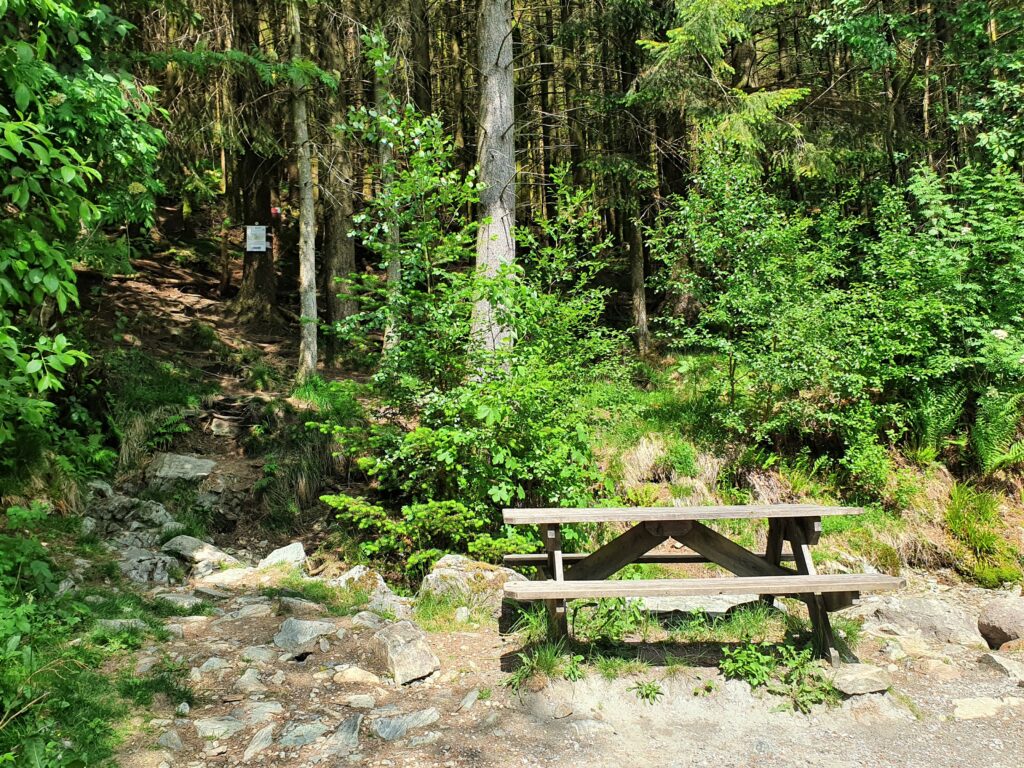 From the car park you start walking along a gravel pedestrian road (named Rambjørgvegen) for about 1 km heading south.
As you arrive at a stream and a small picnic area you take left into the forrest and up the Hjortestien. This is a steep footpath in uneven terrain that also offers stunning forrest views, particularly in the early summer and autumn.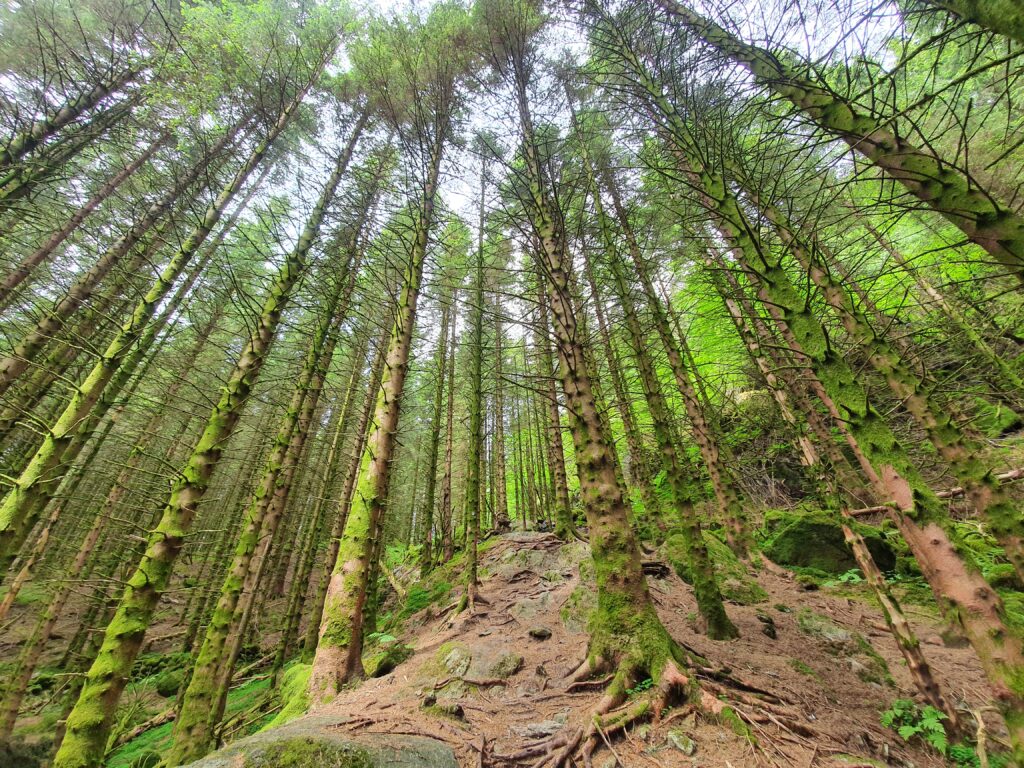 This path is marked well if you follow the plastic bands.
This is the quickest route to the top, and despite a steep incline, you are above the treeline before you know it and you start getting some views.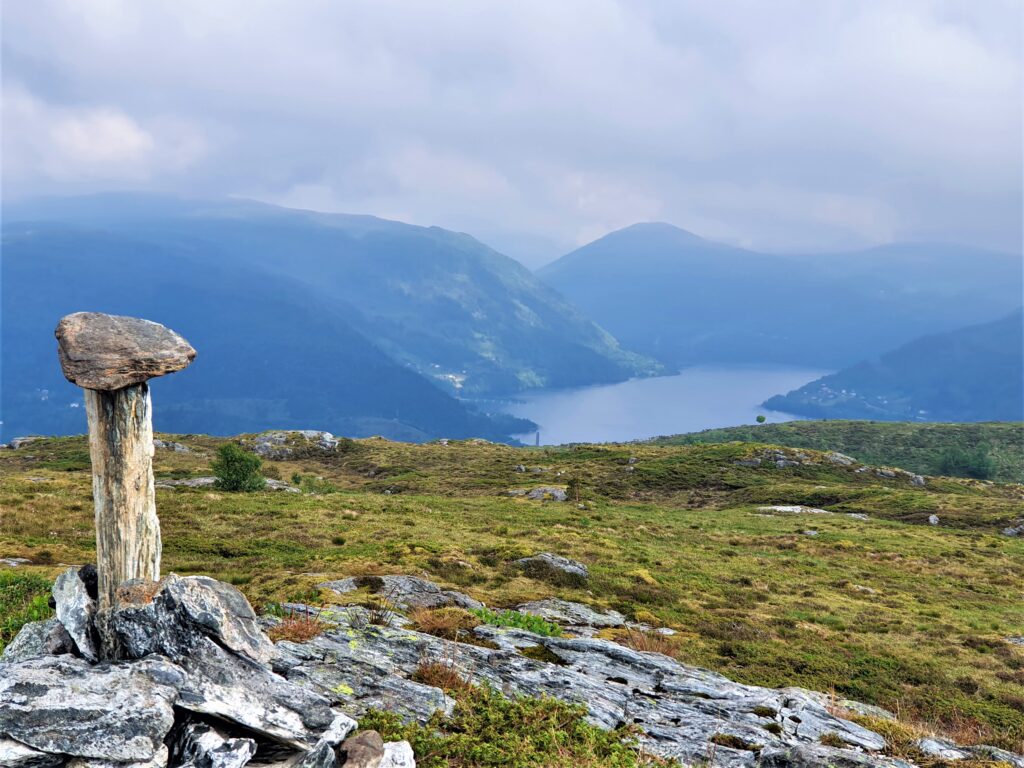 Did you miss out on our other fjord hikes Fra fjord til fjell i Rosendal , Fjordhiking to Vikedalsnebbet in Hardanger, Fjordhiking in Fusa, a daytrip from Bergen, or even Hiking from sea to summit in Uskedalen?
Arriving at the Åsheimsvarden you start seeing more of Sørfjorden and you spot the Osterøy bridge in the eastern direction. As you continue on the path towards north more fjord views will come into sight, and the area of the footpath is like a plateau on which it is easy to navigate in clear weather. Here you can walk around and decide on your favourite view and place to sit for a rest. If you look to your left on the other side of Indre Arna you will see Vardegga which is the other side of the famous Vidden plateau hike accessible from Bergen.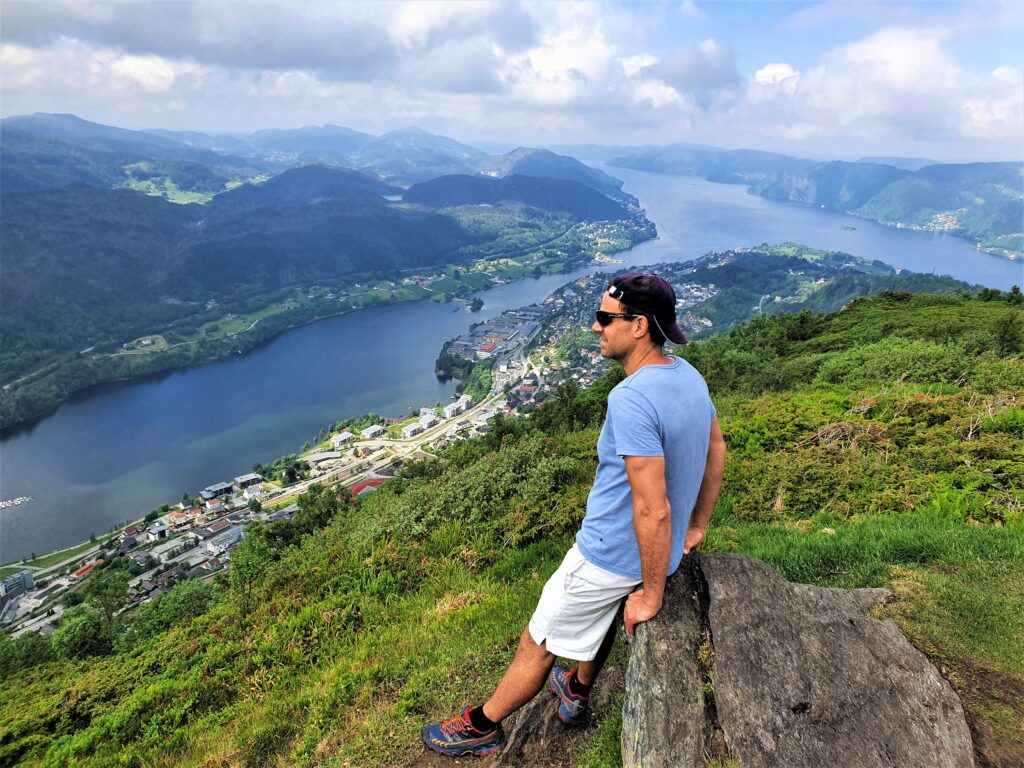 Heading back down you can go back down Hjortestien, or head towards Thunesfjellet by going east at the Åsheimsvarden. (crossing this bridge). The latter option gives you a longer hike down but also less steep path. This route makes the hike a roundtrip before joining the gravel foot road again which takes you back to the car park.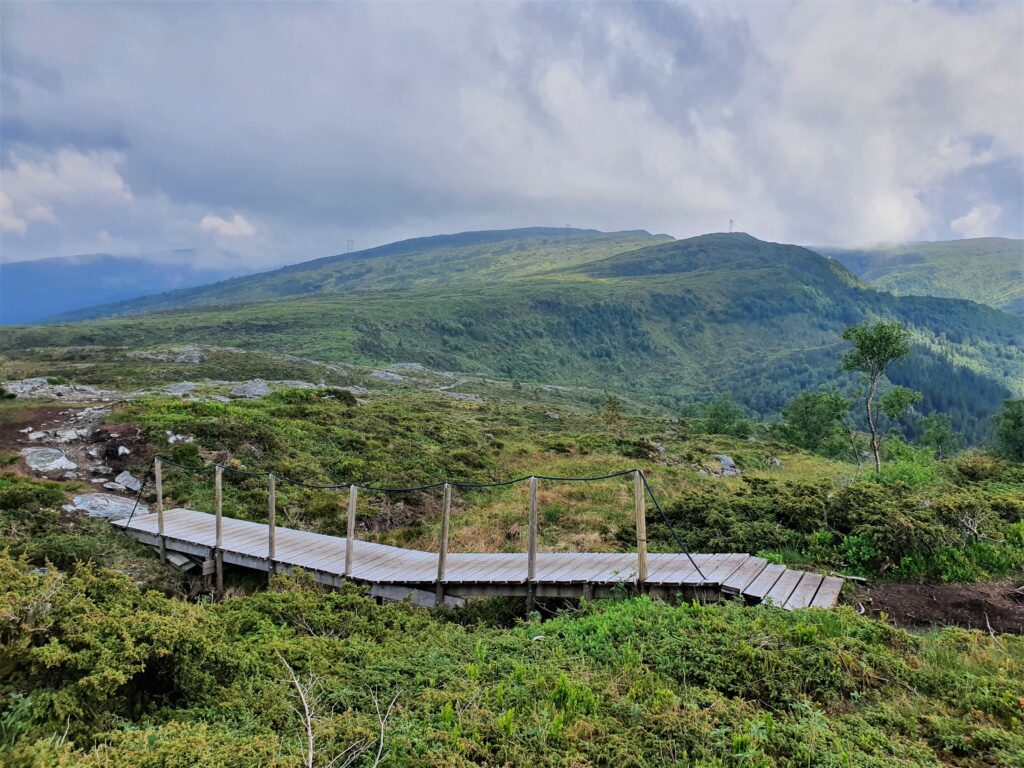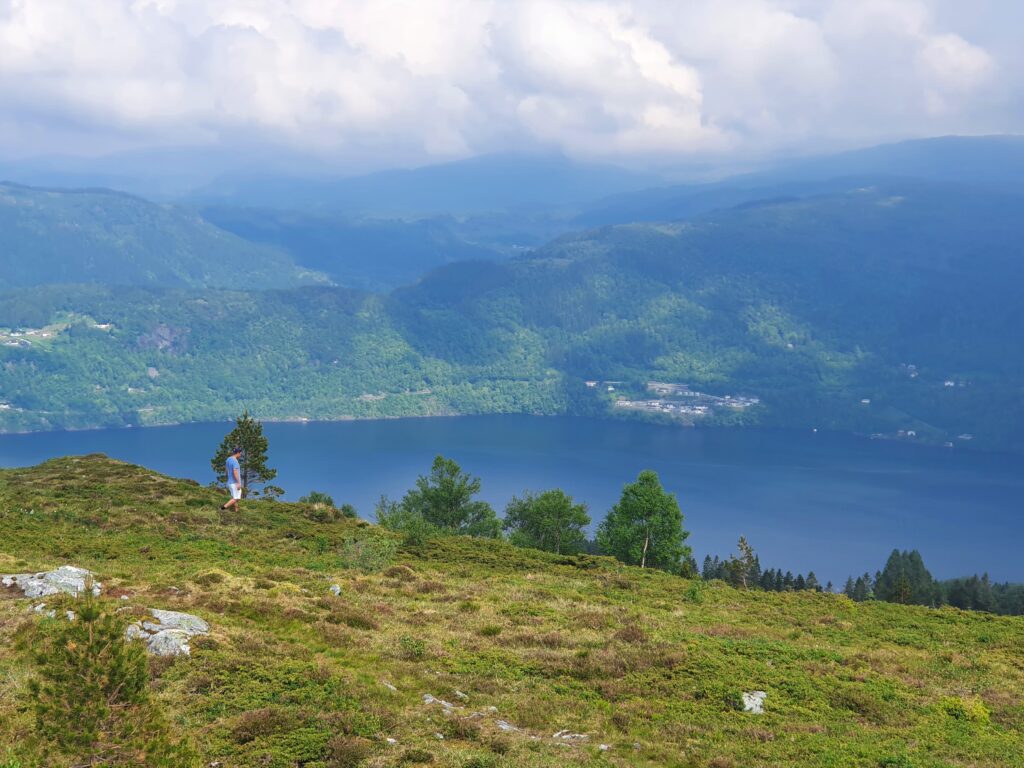 We headed back down Hjortestien, and spent all in all about 1,5 hours on this hike. Talk about short and sweet: lots of view for relatively little effort (depending on your fitness level and experience with hiking in uneven terrain). On wet, rainy days I would not choose this route, as I can imagine the path becomes muddy and the roots slippery coming back down.
A really nice, enjoyable hike, with stunning views considering its height at about 456 m.a.s.l. We hope you enjoy it too!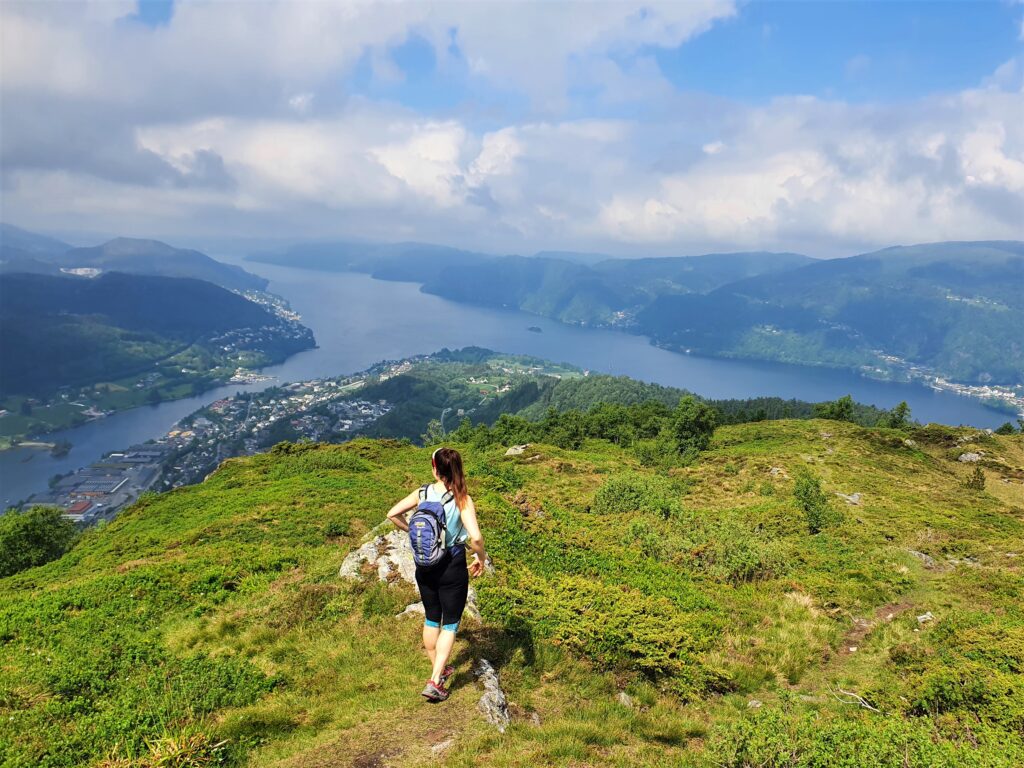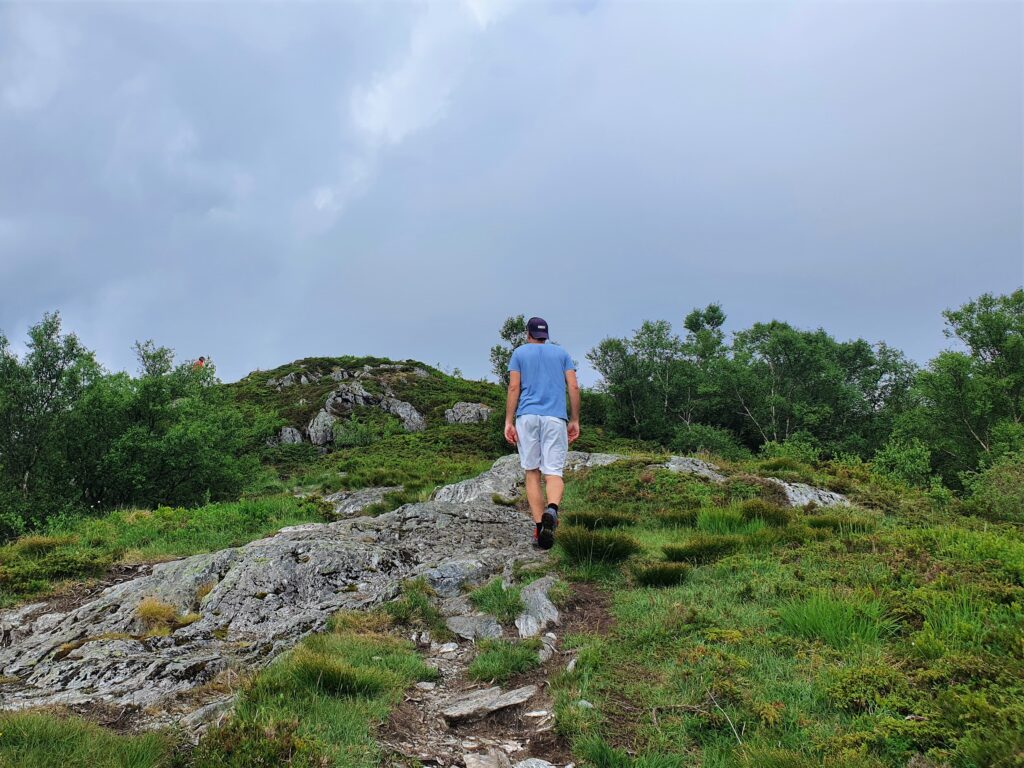 Our latest blog posts: