Hardanger offers numerous options for what we call fjordhiking. This is a really enjoyable way to experience the landscape by the fjords while at the same time get some exercise and achievement.
We try to seek out fjordhikes that gives impressive views and enjoyable hikes. One place that offers a great variety of routes and terrain is the plateau of summits above the small town Ålvik in Kvamherad, Hardanger.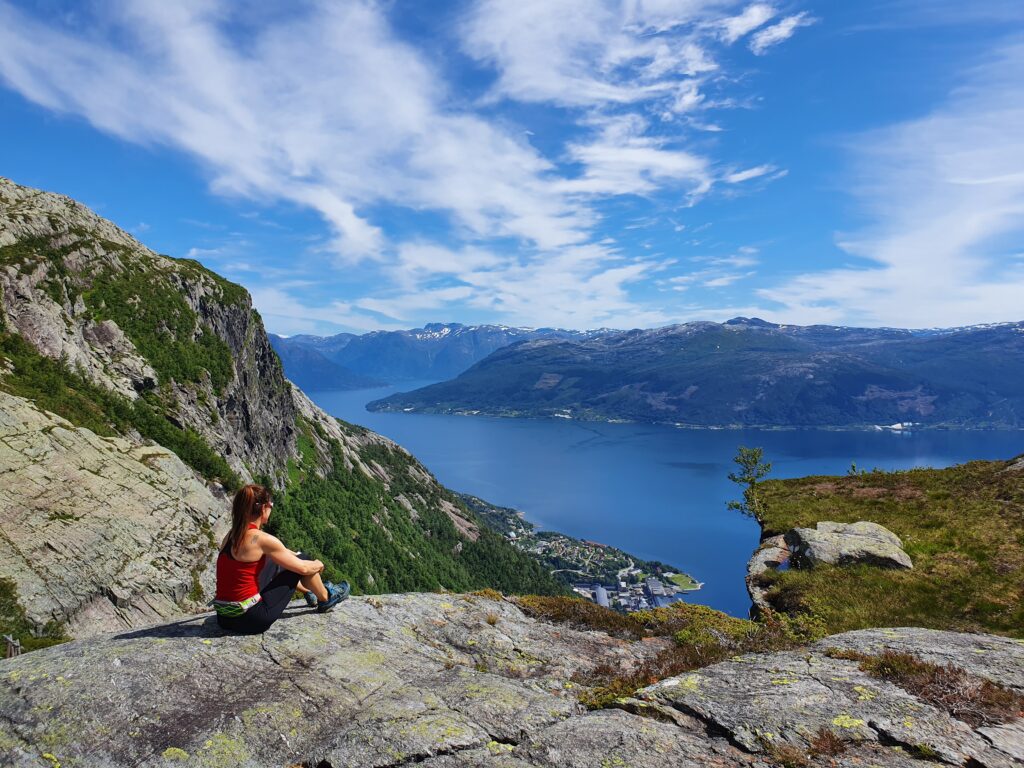 Above Ålvik there are a variety of summits of between 800-1100 metres high and the terrain is interesting and varied. Hiking here ranges from easy to demanding.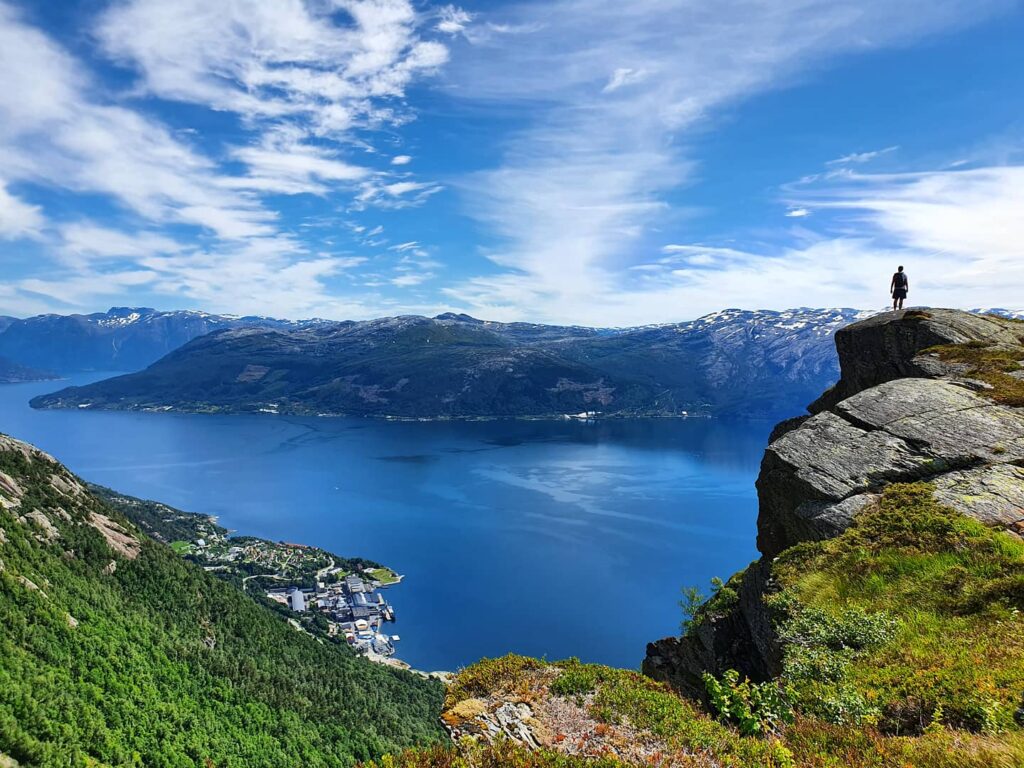 We recently hiked to the impressive cliff Vikedalsnebbet offering airy views of the Hardangerfjord and Ålvik, and continued to Dammen, the dam at Bjølsegrøvvatnet at about 900 m.a.s.l.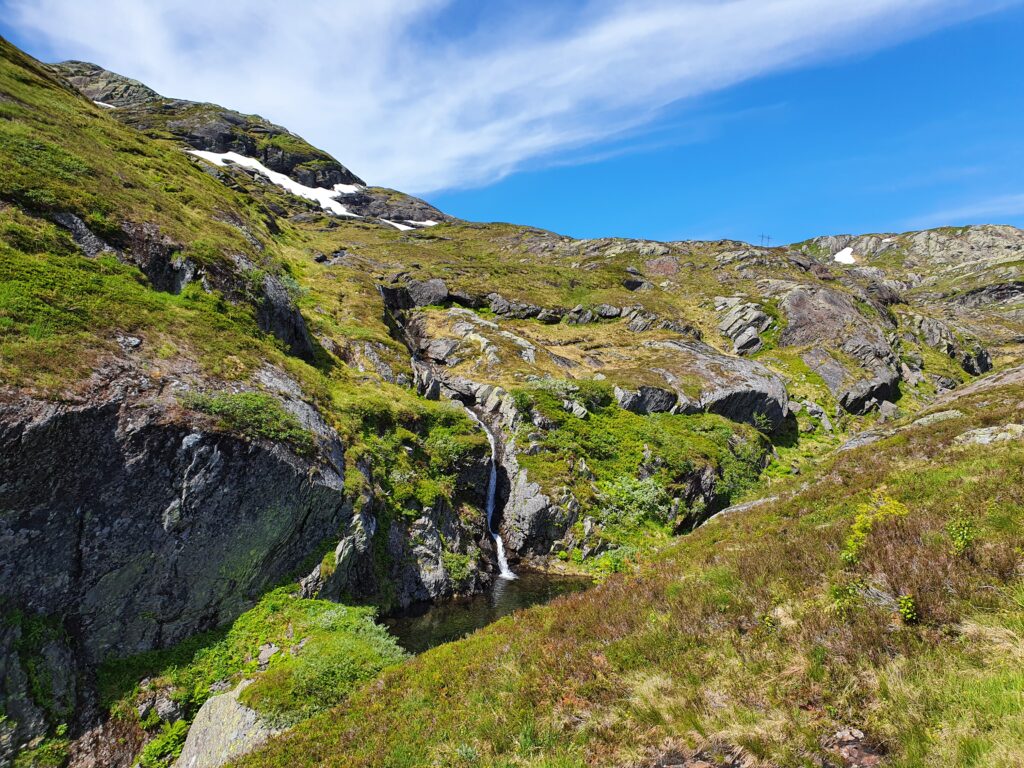 This hike offered very varied and beautiful terrain, with a mix of grass and rock, small lakes, small waterfalls, snow patches left from the winter, and not to mention the impressive views at Vikedalsnebbet.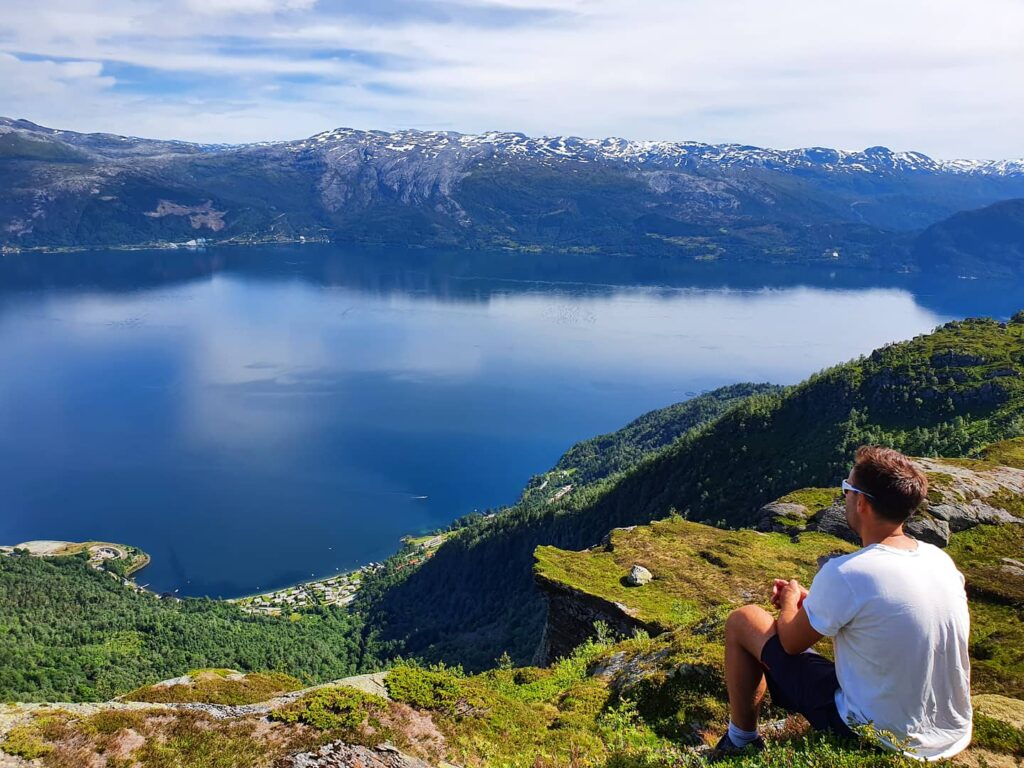 To access the start of the hike exit the RV7 just before arriving at Ålvik (when coming from Øystese or west along the Hardangerfjord) on to Damvegen. The gravel road winds upwards at a steep incline for 3,5 km ending at Hedlerdalen parking. On the way you will find a tollbooth for road and parking tax (currently NOK 60,-). Make sure you stop to fill out a ticket and pay cash or by VIPPS. This road is not suitable for camping vehicles.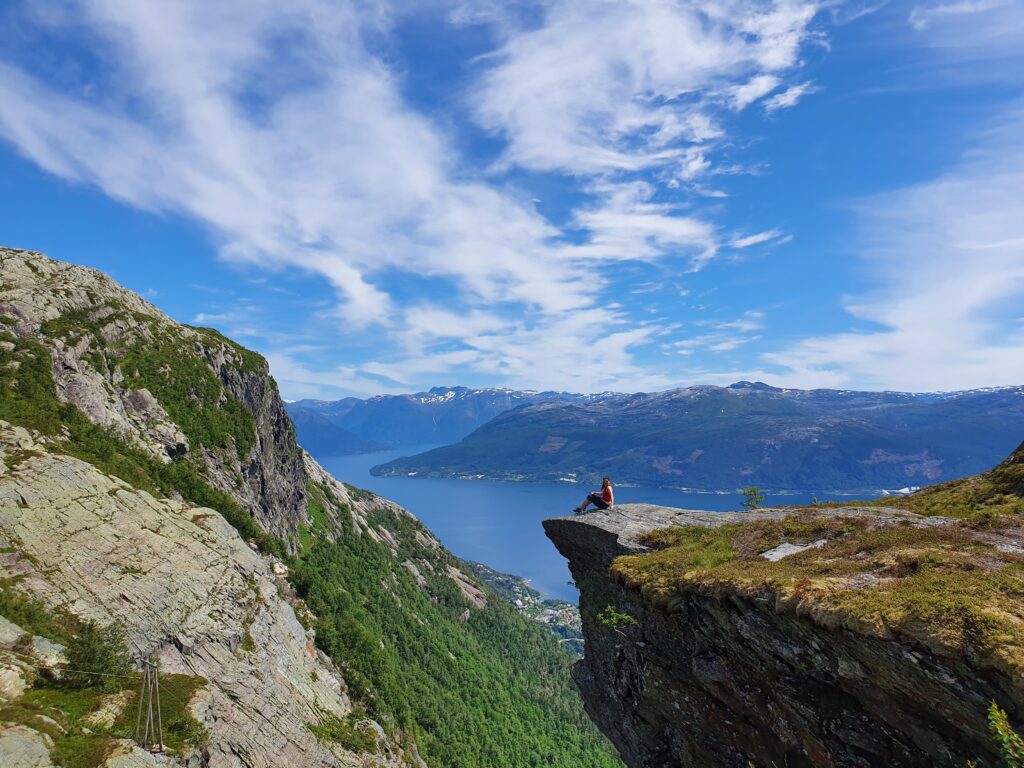 From the parking area the trails are marked and graded as medium difficulty to demanding. The trail is signposted and easy to follow. After 1,7km at 765 m.a.s.l you will get to the cliff Vikedalsnebbet. Take care and watch you step as you enter the area, as there are several cliffs to fall from. Do not go here in fog without knowing exactly where you are.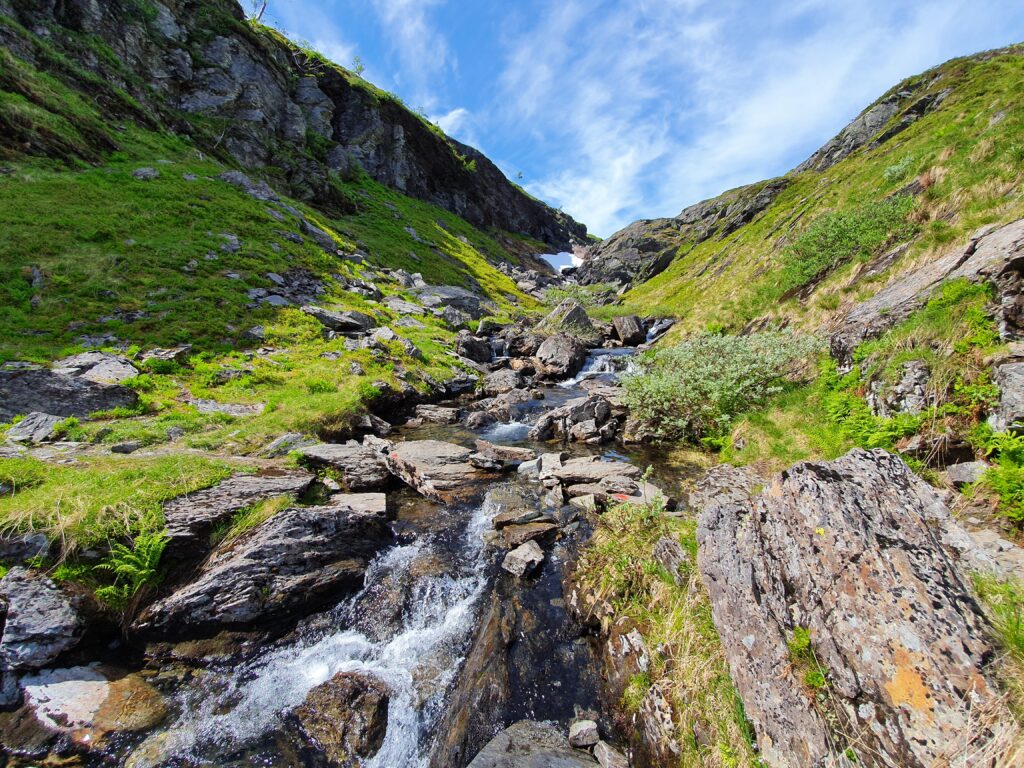 From Vikedalsnebbet the trail goes onward to the mountain tops Dammen, Naglaklepp, and Toppen, all with several spectacular views. Here the trail is marked with red marks and goes along a small river and the trail may be quite wet after rainy periods, but the scenery is beautiful.
You will soon meet a new signpost with the options of going to Dammen, Naglaklepp,Toppen or Giljafjell.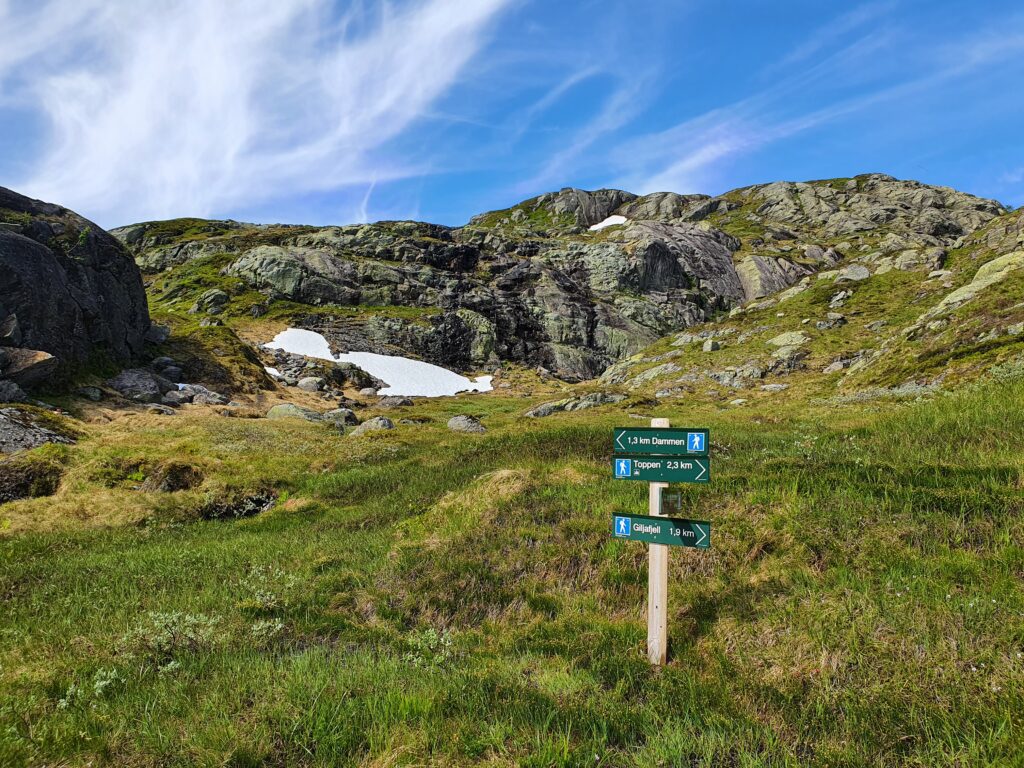 We went onto Dammen which is the same direction as going to Naglaklepp. Here you walk past a nice mountain lake and continue into the Bjølsegrøvvatnet (Vetlavatnet) and the Dam at 870m. On a clear day you can see the Folgefonna Glacier on the other side of the fjord.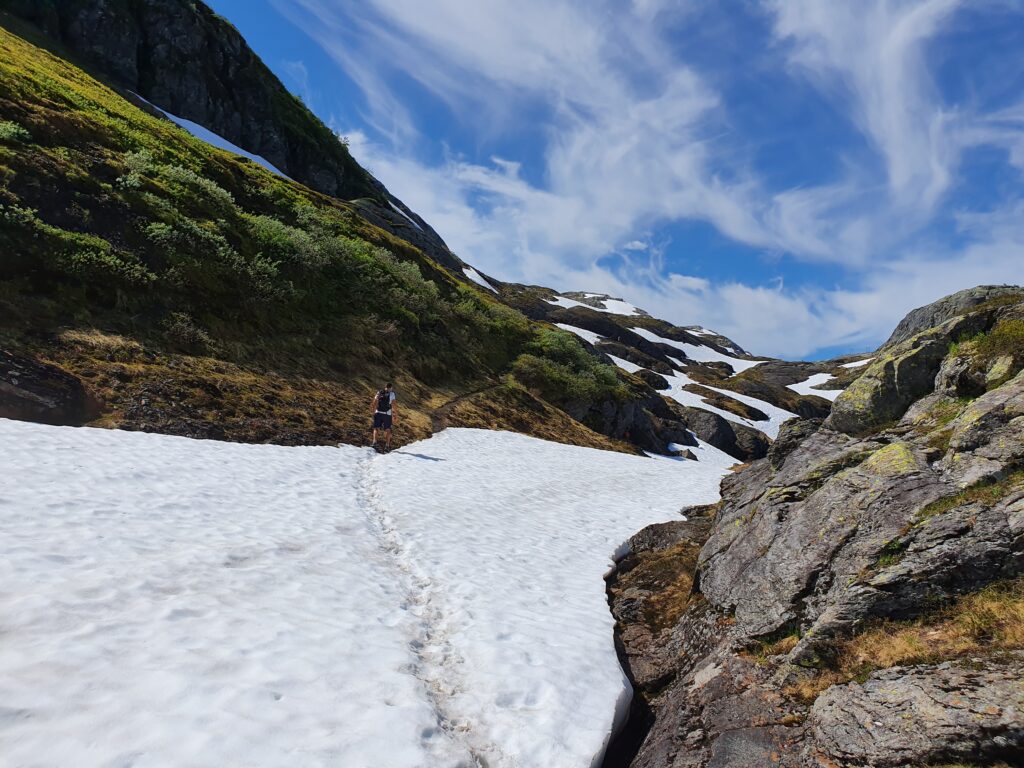 To get here we passed several snowy patches in July, so I can imagine the snow stays here for quite long after each winter. Make sure you write your name in the log book at the Dam.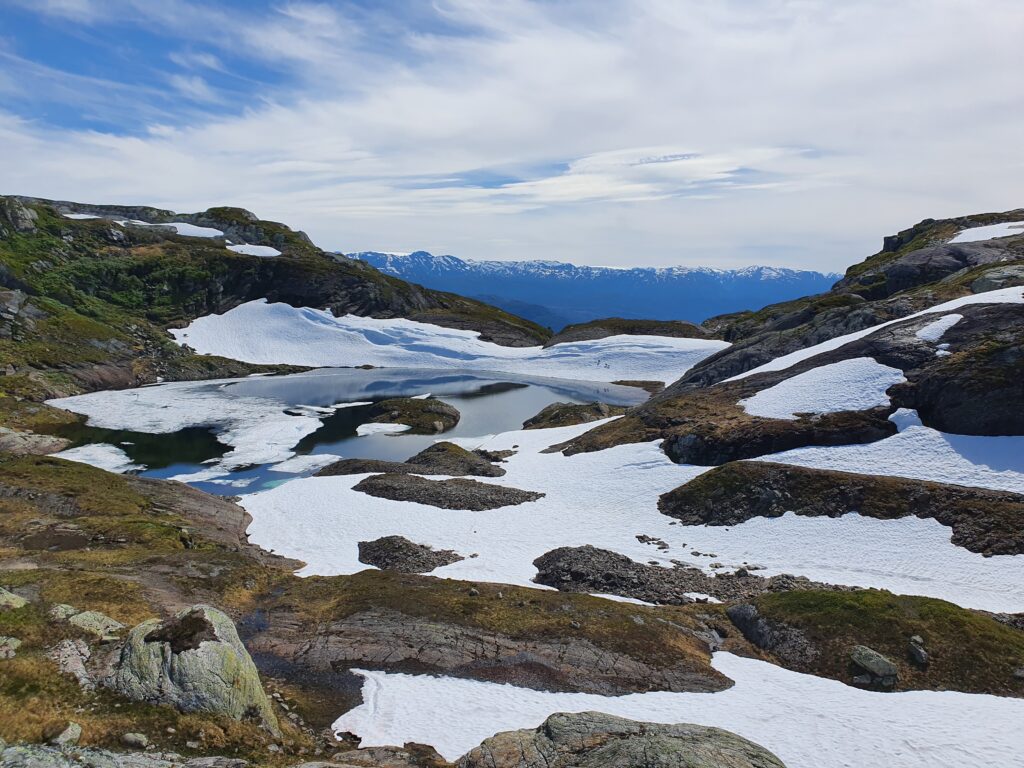 Here the scencery changed to look more like glacier lakes, wonderful and different. Considering this hike was not very long we were impressed by the range of different terrain and scenery.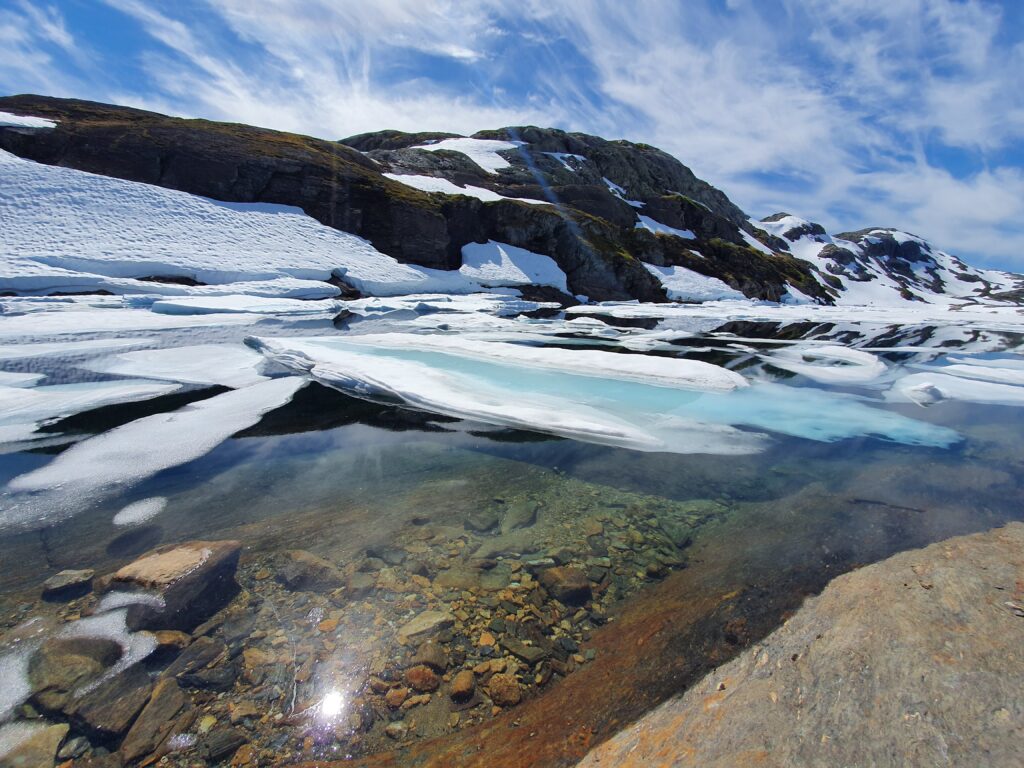 This hike can also be done from Haugenjordet in Ålvik, past Oskarsborg and Toppen and then onto Dammen. This, however, is much longer and more demanding hike so make sure you plan well.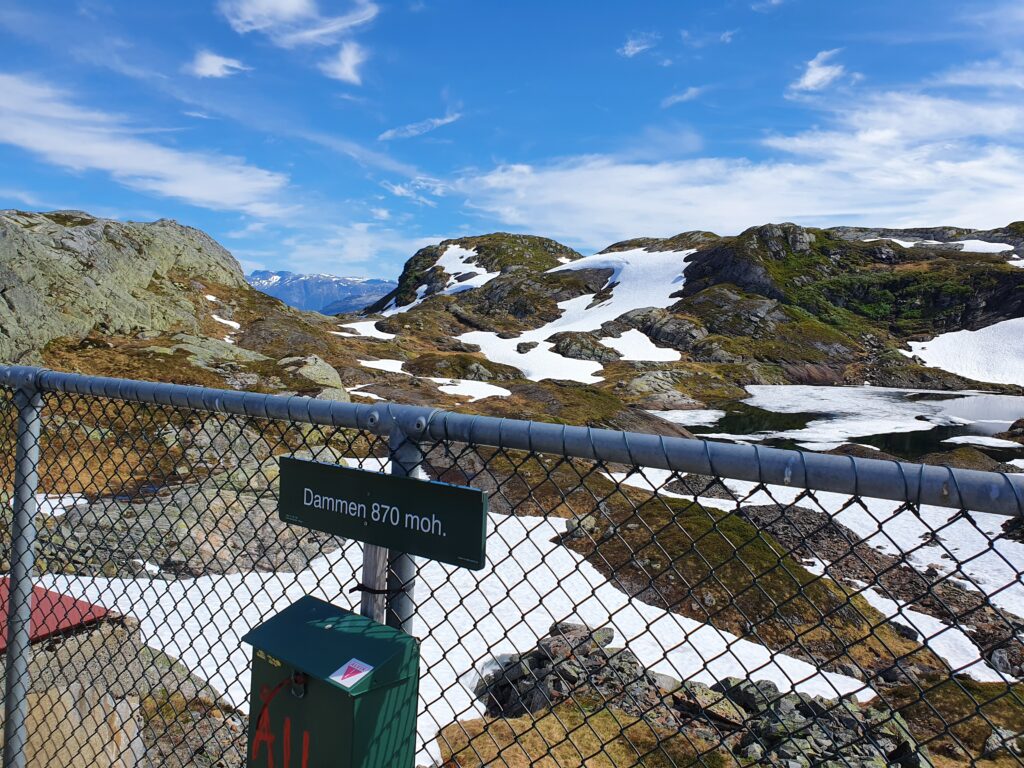 The hike we did this day from Hedlerdalen to Dammen was perfect with the amount of time we had available. We will certainly want to return to Ålvik and hike to Naglaklepp or Toppen the next time.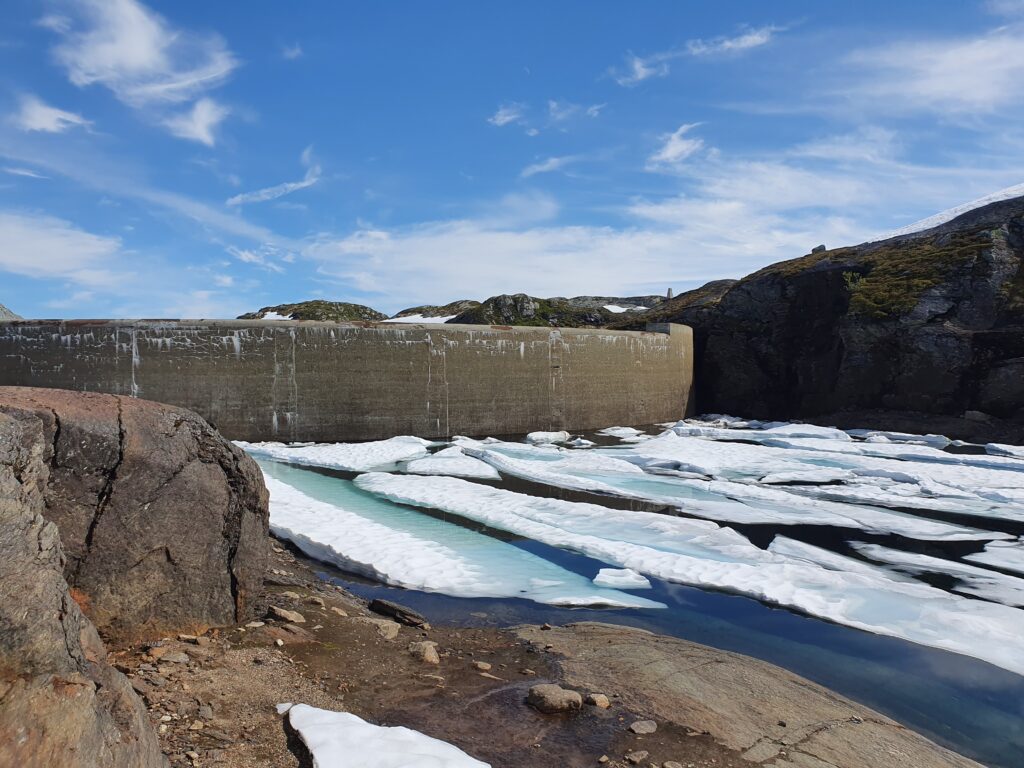 Other nice hikes in Ålvik are the hikes to Kjepsostølen/Lilletveitstølen starting from Haugenjordet near Ålvik centre. We will definately return to Ålvik for more hiking. It is possible to go for a day trip from Bergen to Ålvik with good and careful planning. If you are interested in fjord hiking but not sure what is possible on a day trip, do get in touch with us and we'll se what we can do to help.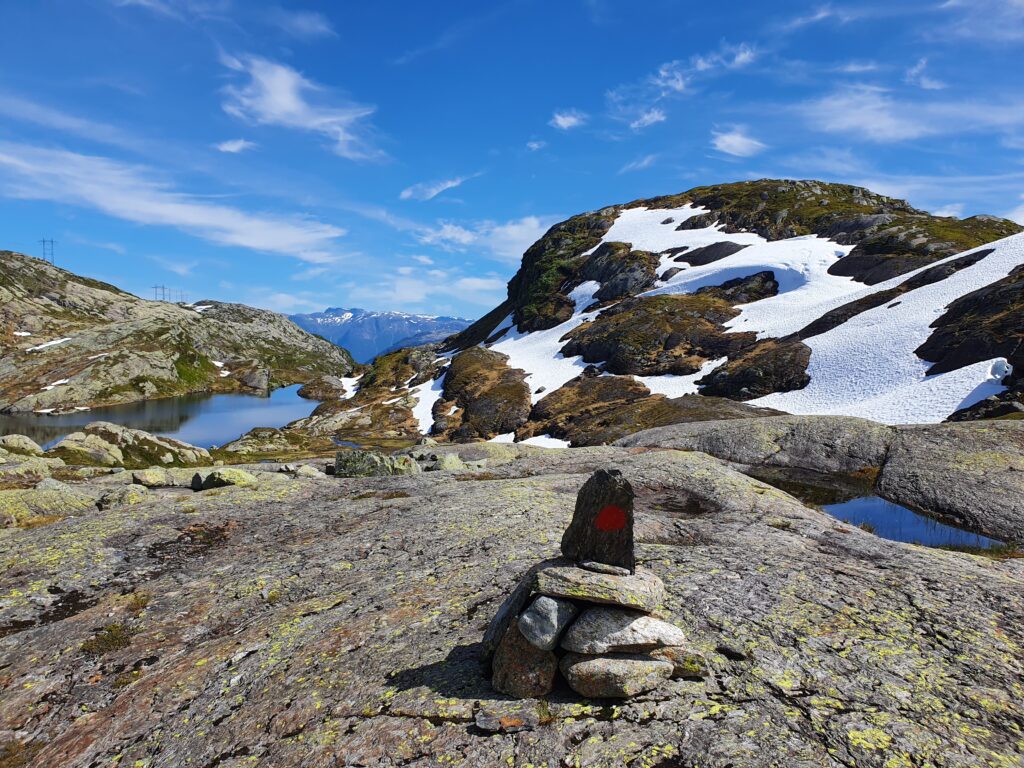 We hope you found this inspiring and got some new ideas for your next hiking adventure! Stay tuned, more fjord hikes will be featuring in the blog soon.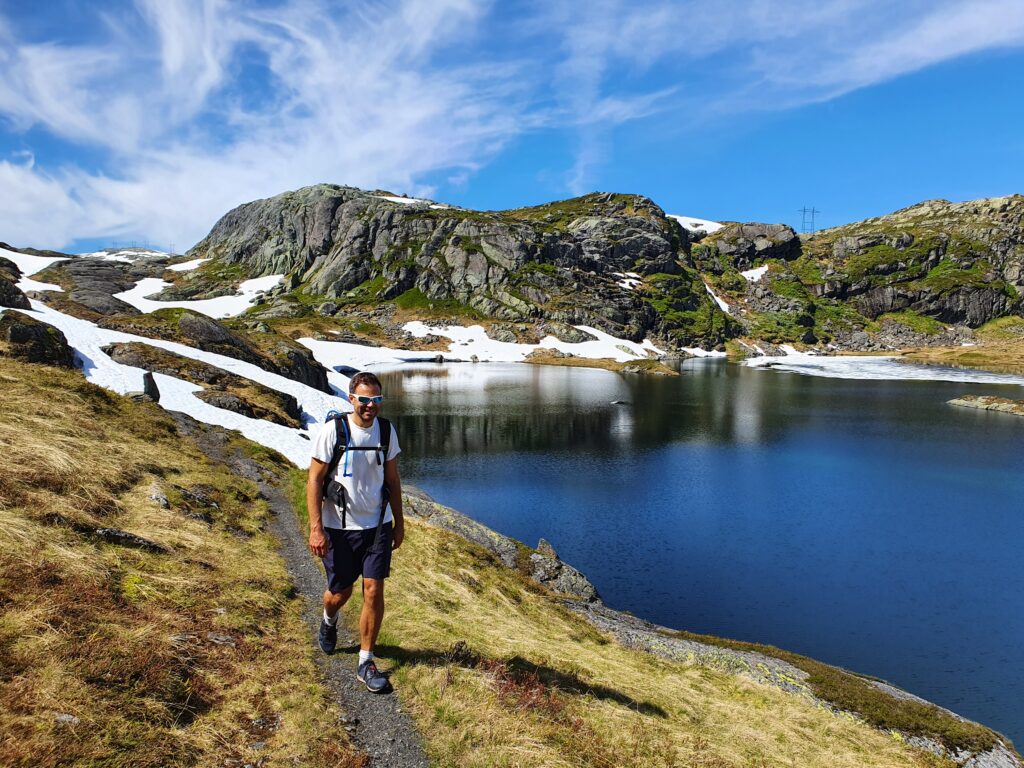 See more photos and videos in our Instagram highlight named Vikedalsnebbet at @bergen_365
Our latest blog posts: