I love running in Bergen, because the city has short distances and running here gives a lot of variety in a short space of time. One can actually run in Bergen city and still have a very scenic run pretty close to nature. In Bergen the nearest view point somewhere is usually not far away.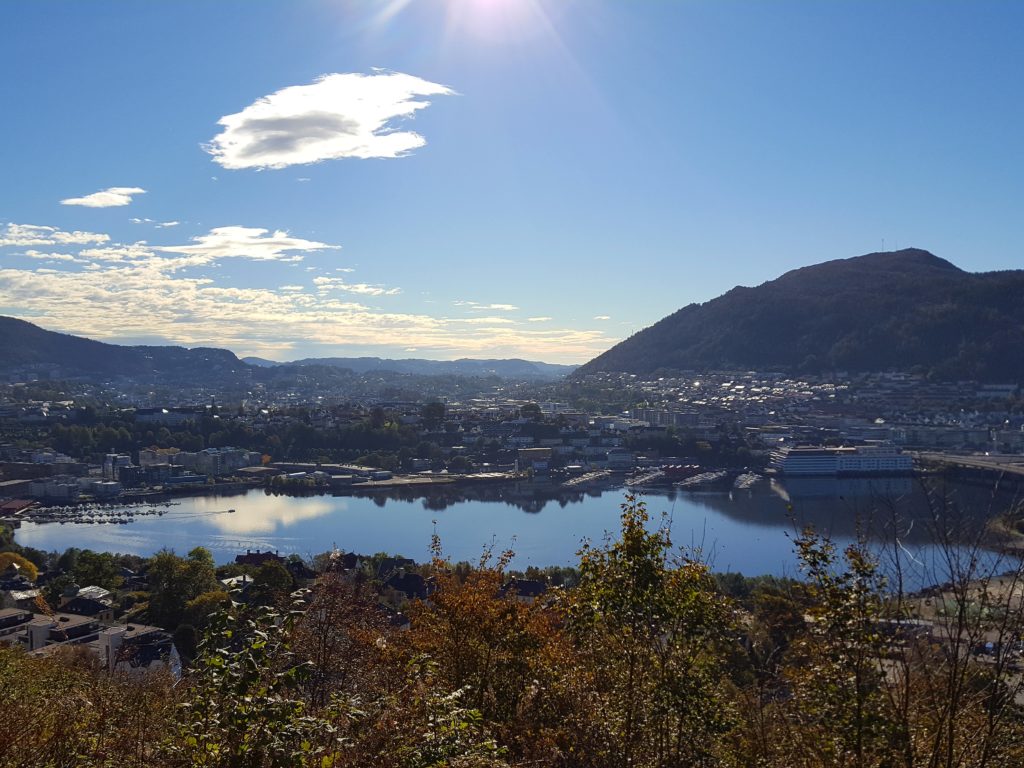 Distance: approx 5,5 kilometres
This run takes you for about 5-6 kilometres to the south-east of Bergen centre heading towards the Mt Ulriken. You will run along the bank of what looks like a lake but is actually the ocean coming in to the inner bay of Bergen.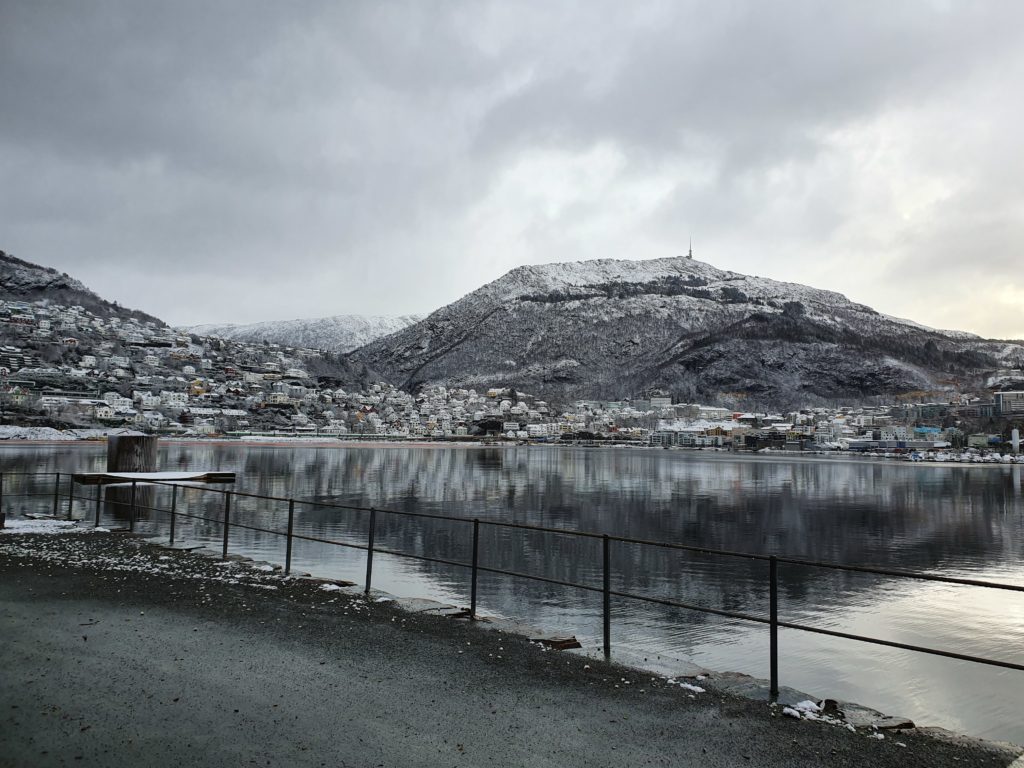 Historically the lake was larger and the waterfront wider and in the 1930s the area was an attractive area for recreation among locals. In the 1950s the area was needed to expand the city of Bergen and the waterfront was significantly reduced by filled masses to help gain area for a new motorway, more railway, a helicopter base, and a garbage plant. In the recent years the area has been improved to once again become a place for recreation such as running, swimming and walking. It is now possible to run along the entire lake, and even go for a swim in the lake on hot days.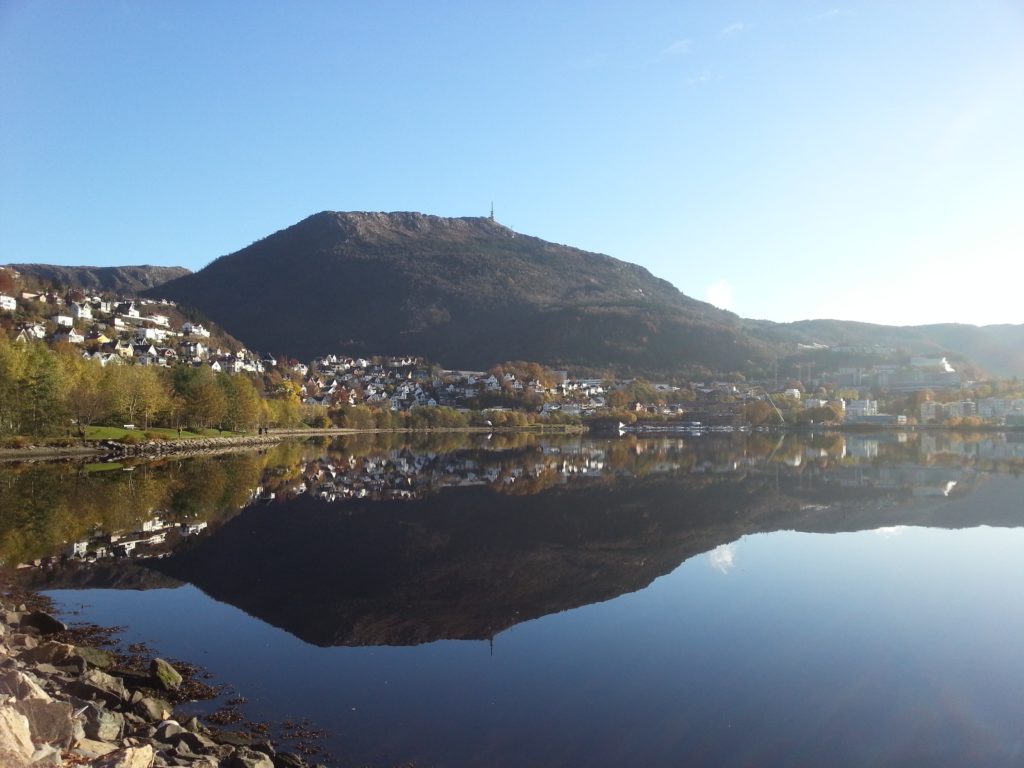 Route description:
Start at Festplassen and go on the north side along the small oval lake called Lille Lungegårdsvannet. A nice place often decorated with beautiful flowers on the bank. Continue past the Bergen Railwaystation with the building on your left and follow the main road next to the Bybane tracks. Continue past a few crossroads and head towards the direction of Mt Ulriken you can see in the distance (the mountain with the TV mast on top). You shall pass a large modern swimming hall called ADO Arena on your right hand. Then you have found the pedestrian road leading around the lake Lungegårdsvannet. Simply enjoy the view of the Mt Ulriken right in front, and the fresh air from the seafront. The lake is actually the ocean coming in and is a saltwater seafront.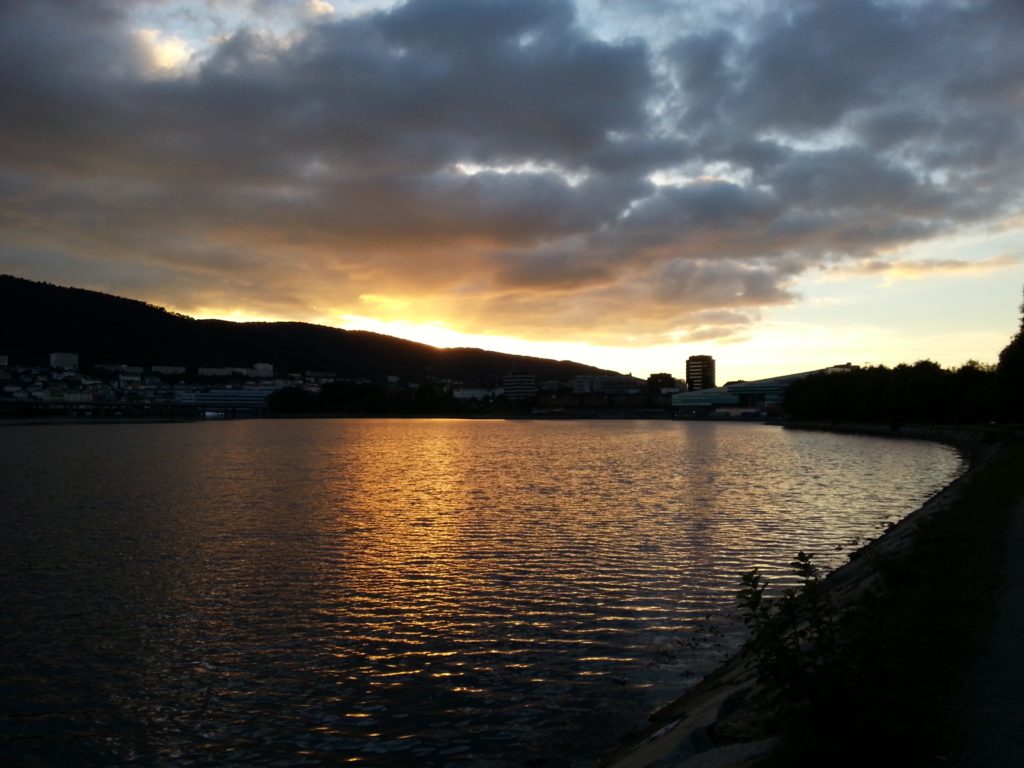 Continue on the pedestrian road right next to the lake in a clockwise direction until you pass a small bridge and get to a helicopter landing spot. Pass this and continue around the lake on pavement next to a car road. As you meet the tram track continue left under the motorway bridge. You pass a tram stop on you left and continue down a little slip road next to the lake and continue left again crossing below the motorway bridge onto a gravel pedestrian path right at the seafront called Nonnestien. Head towards the red pedestrian bridge and cross it to get back to the ADO arena. From here you find your way back the same route.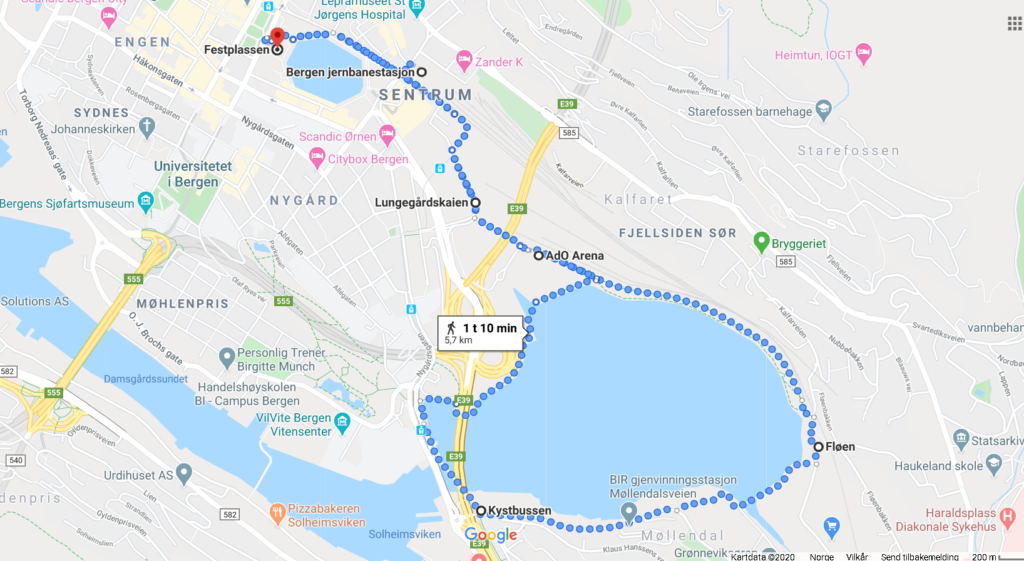 Get in touch if you want more information. Have a great run!